DOWNLOAD OUR NEW ABC COUNCIL APP
Find your bin day
What goes in which bin
News and information
Set reminders
Recycling centres
Tips and Advice
The App is available to download on App store and Google Play store.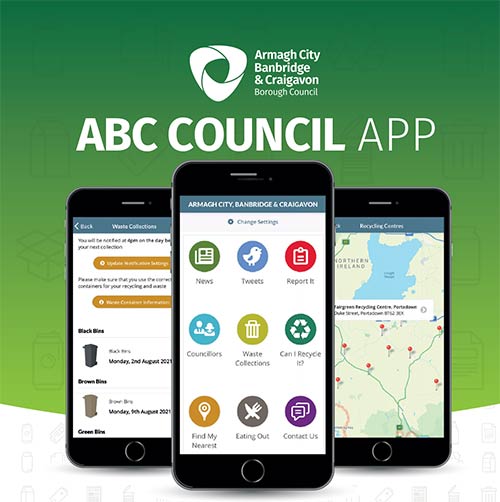 Waste Collection Hygiene
Please respect the safety of refuse collection staff and your own personal safety by taking the following steps:
Wash your hands before and after handling your bins/boxes.
Put cloths, wipes and gloves used for cleaning in the general waste bin.
Do not put tissues in your recycling bins or boxes, there are people sorting your waste, please respect their health and safety.
Always disinfect the handles of your bins/boxes before and after collection.
If you are self-isolating:
Place personal waste, used tissues, and disposable cleaning cloths or gloves in disposable rubbish bags.
Put that bag into a second bag, tie them securely and kept separate from other waste for 72 hours before putting into your usual external general household waste bin.
Also make sure to keep this waste away from children and pets.
Always remember to keep at least two metres (six feet) away from your waste collectors.
No side refuse (i.e., waste including bags not placed in the relevant bin) or additional waste will be collected.  Any additional waste should be either stored correctly at the household's property until it can fit in the bin, or taken to one of the local Recycling Centres.