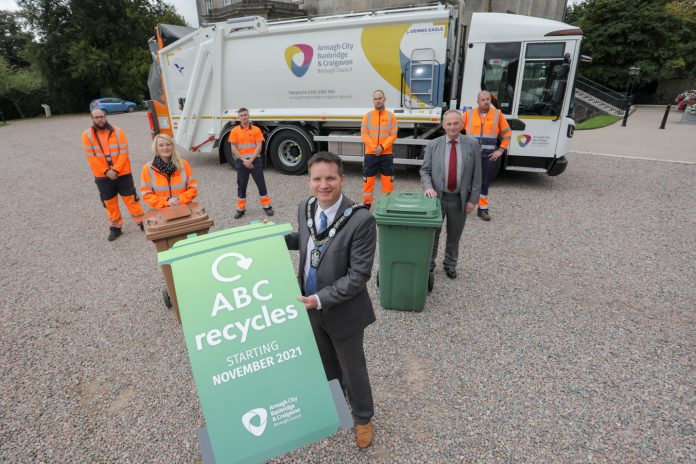 Armagh City, Banbridge and Craigavon Borough Council has today, Monday 13 September, launched a new recycling bin campaign 'ABC Recycles' for residents in the Armagh and Cusher District Electoral Area (DEA) to standardise the collection of dry recyclables for households across the borough.
Last year the overwhelming response to a public consultation, carried out by the Council on the preferred option for introducing a fully harmonised kerbside recycling service across the whole borough, strongly influenced elected members' decision to vote unanimously in favour of extending the Councils recycling bin service to every household.
The result of this public consultation is now being delivered with residents affected by the service change receiving correspondence from the Council to inform them of the arrangements taking place to aid a smooth transition of service this November, when the contract period for the kerbside box system expires.
Welcoming the launch of the Council's campaign to raise awareness of the standardised approach to its kerbside recycling service, Lord Mayor Alderman Glenn Barr said:
"I'm delighted to be launching this campaign today.  ABC Recycles is a direct result of many local people playing an active role in deciding how this key service is delivered, and the roll out plan announced today is highly anticipated.
This service change marks a significant step forward in the ongoing harmonisation of key frontline services, bringing all 87,000 households onto the same recycling system. Now we can move forward with this all-important service in a one Council approach."
As a council we are encouraging all our residents to play their part by actively recycling to protect our planet, and reduce the environmental impact of waste for the future of our younger borough residents. It's so important that everyone continues to make time to reduce, reuse and recycle".
A considerable amount of preparatory work has been done to undertaken the necessary arrangements for introducing this planned service change, and a detailed implementation plan is now in place for residents.  The public awareness campaign will involve social media, press and direct mail to households in the forthcoming months.  Further information is also available at the link below: