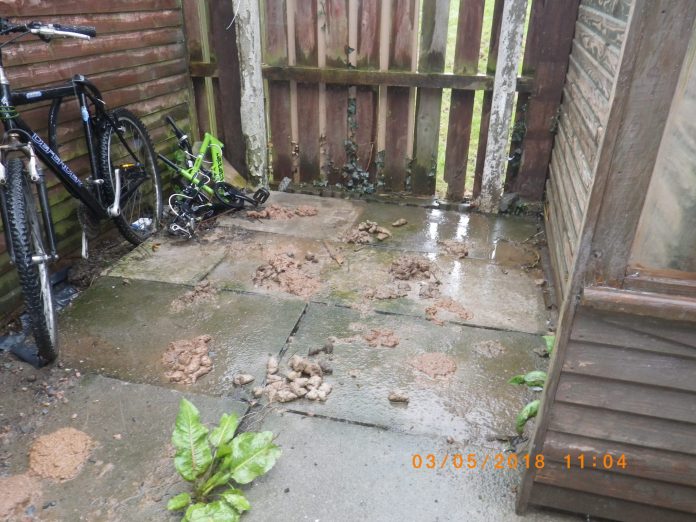 A County Armagh man has been sentenced at Craigavon Magistrates' Court after previously pleading guilty in December 2020 to causing unnecessary suffering to two dogs in his care as well as neglecting their welfare and failing to comply with Improvement Notices.
Mr George Hunter formally of Moyraverty Court, Craigavon, BT65 5HY, now residing at Clooney Terrace, Londonderry, was sentenced for animal welfare offences relating to his two dogs; a German Shepherd type dog and a Staffordshire bull terrier at Craigavon Magistrates' Court via Sightlink on Tuesday 5 January 2021.
Upon hearing the facts and viewing photographs of the property, Deputy District Judge Prenter sentenced Mr Hunter to a 6 month suspended sentence for two years and two three month sentences again suspended for two years. Deputy District Judge Prenter also imposed a 10-year ban on Mr Hunter from keeping or being involved in the keeping of any animals, as well as legal, court and care cost fees amounting to £1,202.
Armagh City, Banbridge and Craigavon Borough Council initiated legal action against Mr Hunter as a result of an investigation.
It was concluded that Mr Hunter failed to make the necessary improvements to the cleanliness of the area in which the dogs were kept, which remained heavily littered with canine faecal matter and demonstrated a disregard to maintaining a clean environment for the animals in his care. In addition, he also neglected to seek veterinary care for the German Shepherd type dog that continued to display signs of discomfort from an ear infection.
Following an assessment by a vet, the dogs were deemed to be in a state of unnecessary suffering and were removed from Mr Hunter's care.
"There is no excuse, under any circumstances, for acts of animal neglect such as this" commented a spokesperson from Armagh City, Banbridge and Craigavon Borough Council.
"We hope this ruling will serve as a reminder that anyone who owns a pet must take proper steps to care for them, as required under the Welfare of Animals Act (NI) 2011. We are determined to pursue those that fail to care for the welfare of animals and will continue to use all enforcement powers available to us to take action against anyone guilty of causing harm or cruelty to animals.
"We would ask if anyone has any concerns regarding the safety or welfare of an animal to report it to the council on 028 3751 5800 or email ."