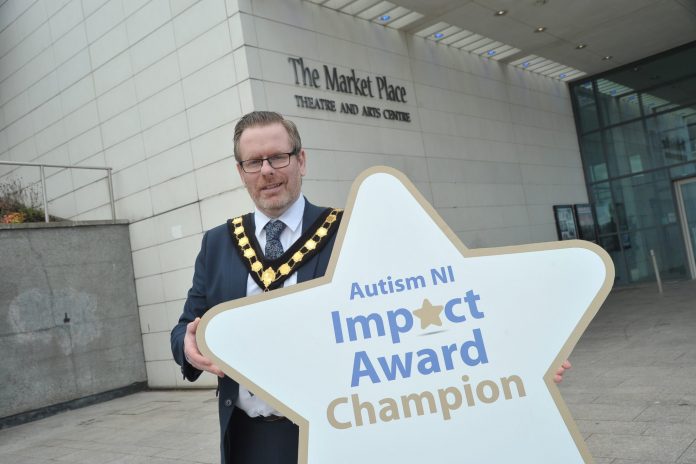 New online pre-visit guides launched to mark Autism Awareness Week
To mark World Autism Awareness week (29 March – 4 April), Lord Mayor Kevin Savage is proud to announce the Autism Impact Award for the Market Place Theatre and Arts Centre and a new dedicated inclusive information section on the council website.
The Autism Impact Award from Autism NI is in recognition of staff training and recent improvements at the Market Place Theatre and Arts Centre made to the facility to enhance the experience of visitors and those with autism. A range of adjustments include relaxed performances to reduce anxiety and provide a less stressful experience, a chill-out area to take a break during performances, and a pre-visit guide and virtual tour to view the building before your visit.
Making the announcement, Lord Mayor of Armagh City, Banbridge and Craigavon, Councillor Kevin Savage, said:
"This week marks World Autism Awareness Week and we as a council are committed to becoming a more autism friendly borough to support people with autism and their carers.
"I'm delighted to announce the Market Place Theatre & Arts Centre who have received the Autism Impact Award, also join the Navan Centre as the second council facility to receive this recognition from Autism NI.
"I am also proud to announce a new dedicated online inclusive section on our council website hosting a range of pre-visit guides which have been designed and developed for tourism, leisure and community facilities to support visitors to prepare for their visit.
"This really demonstrates our commitment to ensure we create a more welcoming and comfortable environment and I want to thank the staff who have undergone training to show their support for the autism community. While under current government restrictions, I look forward to when our council facilities can reopen to welcome a positive, inclusive experience for everyone to enjoy the services and facilities we offer.
The dedicated 'Inclusive Information' webpage provides a wide range of facility and service information including changing places, accessibility information from working in partnership with Access Able to provide detailed guides for council facilities and venues across the borough and a range of other services and inclusive activities.  To access the dedicated inclusive information section on the council website, please visit www.armaghbanbridgecraigavon.gov.uk/inclusive
Lord Mayor continued, "I proud to say that on Friday 2 April, which marks the 14th World Autism Awareness Day we will join hundreds of thousands of landmarks and buildings around the world who come together in recognition of people with autism and those who love and support them. We will light up council buildings across the borough in blue to join this international day of recognition."
As Northern Ireland's main autism charity, Autism NI developed the Impact Awards to help organisations create a more 'autism friendly environment' for their customers. Joanne Keown, Autism NI's Training & Development Officer congratulated the team at The Market Place Theatre, commenting,
"Through attending staff training and achieving the Impact Award, staff at The Market Place Theatre have demonstrated their commitment to better understanding any autistic theatregoers, and have adapted their organisation's environment to provide dedicated support".
Autism NI runs the Impact Awards scheme which celebrates, awards and promotes organisations, including councils, that support the autism community.