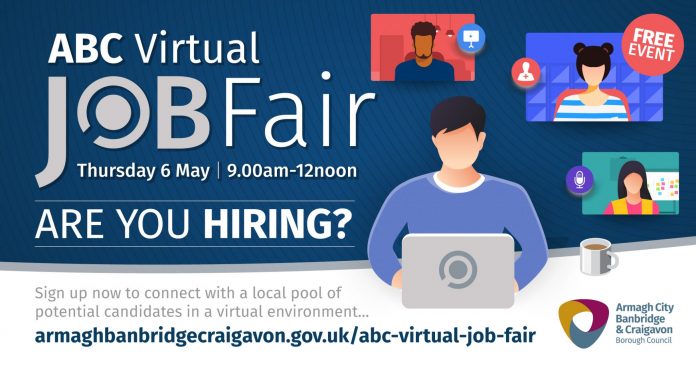 Armagh City, Banbridge and Craigavon Borough Council is calling on local businesses seeking to fill posts to get in touch and register for its first virtual job fair taking place on Thursday 6 May 2021 from 9am to 12noon.
Save time, cut recruitment costs, all while reaching a larger pool of candidates, sounds like a trick doesn't it? But it's not, the ABC Virtual Job Fair will provide an effective and efficient way for employers actively recruiting to meet and engage with a range of people who are looking for work, including people recently unemployed due to the pandemic. It's a great way to help employers fill current vacancies faster and boost their company's profile as well!
Encouraging local businesses to sign up, Lord Mayor of Armagh City, Banbridge and Craigavon, Councillor Kevin Savage said:
"The shift from in-person to virtual job fairs has been critical in helping employers continue their recruitment efforts during the pandemic; what's more it has also provided a unique platform for them to reach more people, expedite the hiring process and save on associated costs.

"People are our greatest asset in our borough; we have a dynamic, skilled and diverse population motivated to succeed. I would encourage those businesses actively recruiting to get in touch to find out how the upcoming ABC Virtual Job Fair can help connect your company to this attractive talent pipeline."
Hosted on Zoom, the virtual job fair will enable participating employers to virtually meet prospective employees, provide information on job opportunities and answer attendee questions from the comfort and convenience of their own home or office.
If you're an employer currently recruiting for vacancies and would like to find out more about taking part in the virtual job fair, then click here or contact ABC Council's Economic Development department on by Monday 12 April.