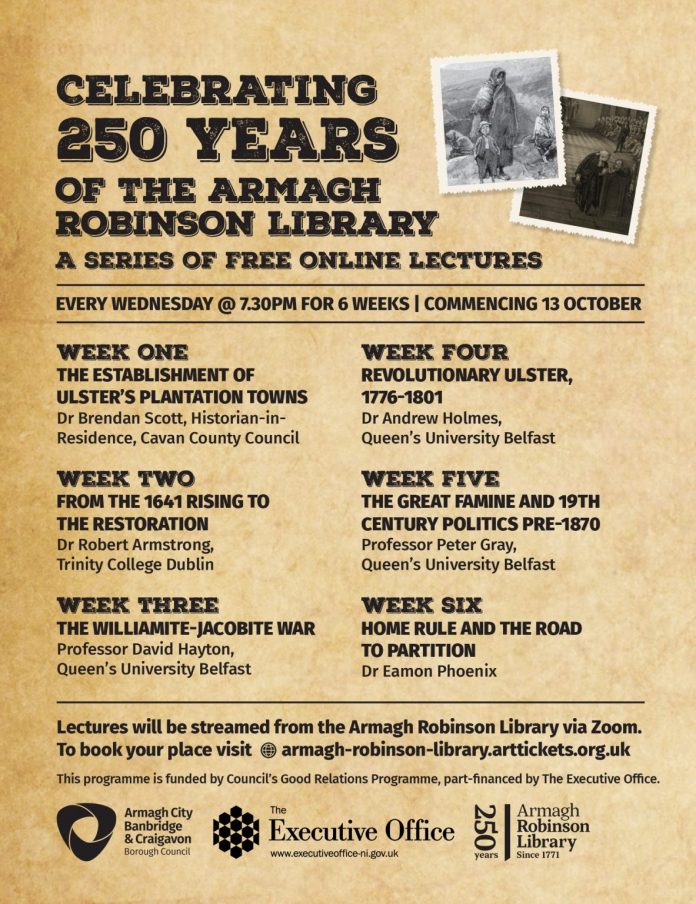 2021 marks 250 years of Armagh Robinson Library sharing a rich and varied collection of books and fine art with the general public of Armagh City and visitors from around the Globe.
Founded by Archbishop Richard Robinson in 1771, the collections include around 46,000 printed works with subjects including medicine, science, history, law, politics, theology and travel. The collections also hold ancient and medieval coins, commemorative medals and sulphur gems, prints, map and atlases, and manuscripts.
Many of the Library's treasures are on display, such as Medieval manuscripts, incunabula (books printed before 1501), Archbishop Beresford's archaeological collection, and Jonathan Swift's own copy of Gulliver's Travels with notes in Swift's own handwriting.
Commencing on 13 October 2021 we will be hosting a FREE six week lecture series, in partnership with Councils Good Relations programme, which aims to reflect some of our rich shared history and that of the vast collection held within the library.
Lectures will be streamed from the Armagh Robinson Library via Zoom.
To book your place visit armagh-robinson-library.arttickets.org.uk