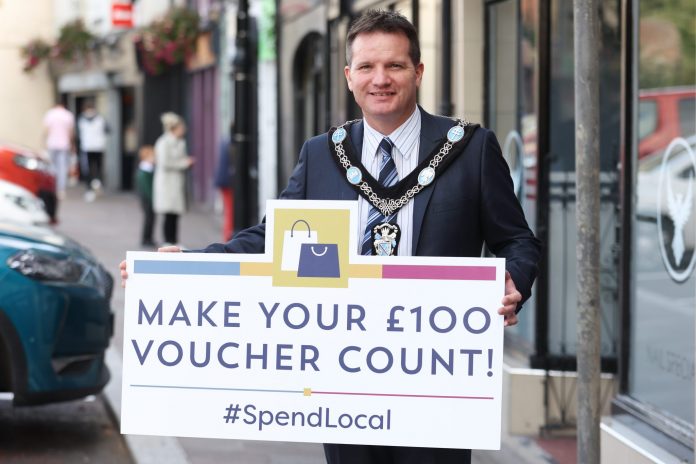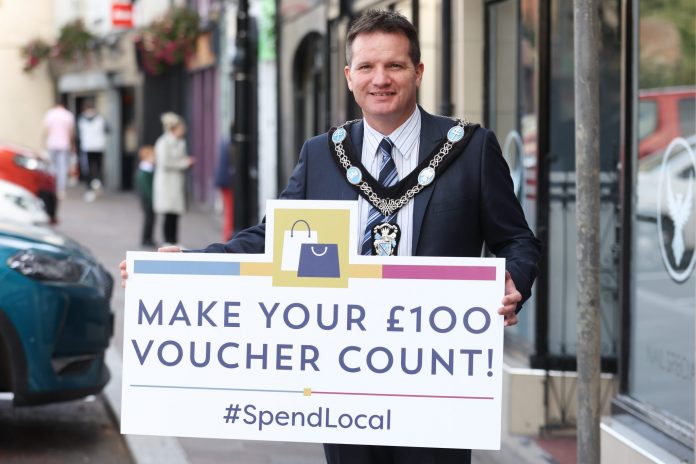 As the High Street Cards start to drop into letterboxes in the next few weeks the Lord Major of Armagh City, Banbridge and Craigavon Borough Alderman Glenn Barr, has appealed to residents across the borough to use their cards locally.
The £100 prepaid cards that are part of the NI Executive's Coronavirus (COVID-19) recovery programme, are available to all resident in Northern Ireland over the age of 18, and can be applied for on-line before 25 October, with telephone applications opening on Monday 11 October.
Commenting on the economic iniative the Lord Mayor said;
"Every adult in Northern Ireland is eligible for the £100 pre-paid card that will provide a welcome, and much needed, boost to businesses across our borough during the months leading up to Christmas.
"I am urging all local residents to apply and use their cards locally to support those businesses that have been hit hardest during the pandemic.  Let's use this as an opportunity to help bring many more customers back to our local high streets in our city, towns and villages, to support our retail and hospitality businesses, key employment sectors and vital components of our local economy."
The portal at NI Direct is expected to be extremely busy in the days after it opens. Applicants are reminded that the online portal will be open for four weeks only and everyone will have a minimum of four weeks to spend their card.
Applicants should receive their Spend Local card within 7-10 days of making their application. When an applicant receives their card, they will need to verify the card through a computer-operated phone system or text message and make the first payment using a pin, before they can start to use it for contactless payments.
The cards can be used in all participating businesses in Northern Ireland. They cannot be used online or for gambling or some financial and legal services.
The scheme will officially close on 30 November 2021, when all cards will be deactivated, and no more spending on the card can take place.  The Department for the Economy have made a number of resources available for local retailers to promote their support for the High Street Scheme, all of which are downloadable from the Department for the Economy's website.   Full information on the scheme can be found on NI Direct: www.nidirect.gov.uk