Business Events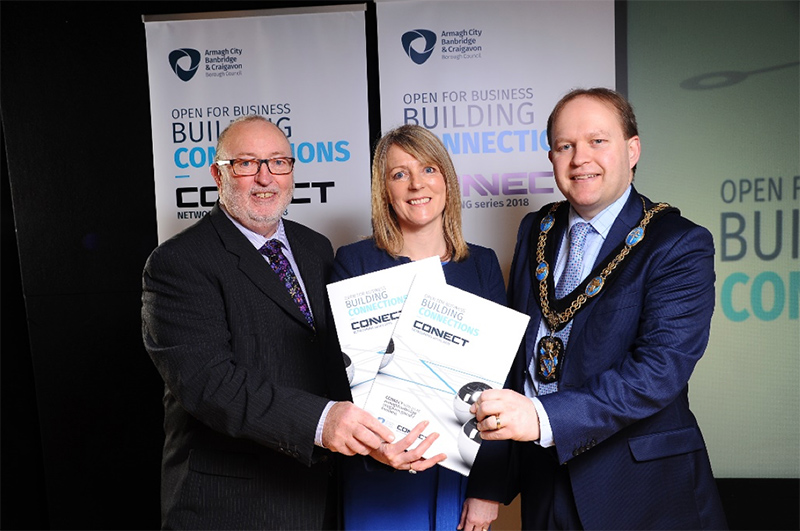 The Connect Business Networking Series 2018, hosted by Armagh City Banbridge and Craigavon Borough Council, is a series of high quality, dynamic, and inspirational opportunities for local businesses to network and engage with each other. Each event is designed to help businesses to connect and build their networks while focusing on key business issues.
The CONNECT Networking Series of FREE to attend breakfast events will:
Create unique opportunities for local business people and entrepreneurs to network, collaborate and engage with one and other, council and key business organisations and stakeholders;
Inspire local businesses with motivational, inspirational and captivating guest speakers;
Champion our exceptional business leaders, employers, innovators and entrepreneurs from across the borough as well as inspiring new-starts and individuals considering starting a new business;
Build awareness of our world-class products and services;
Provide a platform to build further on relationships within and between the business community, wider economy and council, strengthening the borough as one.
Network Event
Event Overview
Open For Business – Building Connections

13 March 2018
08:00 – 10:00

Launching Armagh City, Banbridge & Craigavon Borough Council's new series of networking events, this first event will provide delegates with an insight into targeting and growing valuable business connections, while developing the tools required for more impactful business networking.

For more details or to register email 

GDPR – Are you Prepared?

26 April 2018
08:00 – 10:00

With the General Data Protection Regulations (GDPR) deadline on 25th May 2018, it is crucial to understand how to keep your business compliant if you hold customer information.

This event is an introduction to GDPR and the potential ramifications for business activities. It will help delegates to understand how GDPR will affect you and your business and allow you to get onto the road to compliance.

For more details or to register email 

Attracting and Retaining Talent

15 May 2018
08:00 – 10:00

The turnover of experienced and talented employees is one of the most costly and devastating issues facing employers. Turning your organisation from high to low levels of staff turnover requires a deeper understanding of what turns people from engaged employees to active job seekers.

During this interactive networking event, delegates will learn key facts around the drivers of attraction and retention of talented people and benefit from advice shared by recruiters and experts in the field of talent management.

For more details or to register email 

Build Your On-line Presence

11 September 2018
08:00 – 10:00

This networking session is aimed at businesses who are starting to develop their online presence and who need to formalise their strategy and generate measurable results for their business.

This event will cover some of the core social media and digital marketing channels and will cover the following:

Why digital marketing is so effective
How to choose the right platform for your business

How to build your audience on social media

For more details or to register email 

She Means Business

1 October 2018
Time TBC

This female focussed networking session will help delegates build business relationships with like-minded entrepreneurs.

Our speaker line-up will include inspirational female entrepreneurs from a variety of business backgrounds, who will share their stories with you, in particular, their successes and their challenges along the journey of entrepreneurship.

This event will provide a platform that will connect positive, motivational and ambitious business women from all sectors and from across the borough.

Whether you are an entrepreneur, small business owner or thinking about starting a business, this event is not to be missed.

For more details or to register email 

Future Proofing Your Business

27 November 2018
09:00 – 13:30

This final event in the CONNECT Networking Series 2018 will take the form of a half day keynote conference.

Featuring expert speakers and a guest panel, this event will highlight the need for clear and strong business leadership to future proof our businesses and our economy, while exploring how this can be achieved in collaboration with key economic stakeholders.

This event will provide key insights into the impact of the Chancellor's Autumn Budget Statement and encourage local business leaders to seek opportunities for growth as they consider the economic challenges ahead.

For more details or to register email