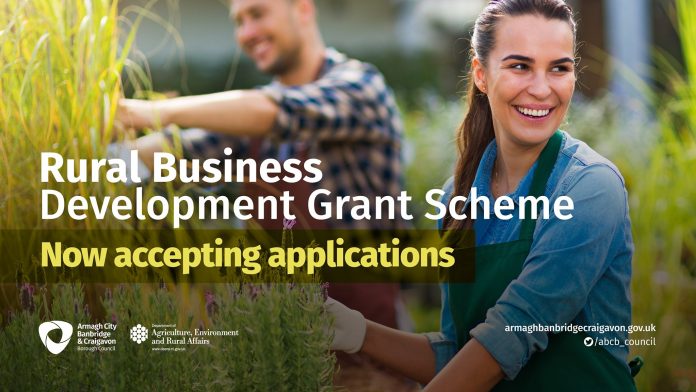 Armagh City, Banbridge and Craigavon Borough Council is delighted to announce the Rural Business Development Grant Scheme for local rural micro-businesses is opening for applications on Wednesday, 4 May 2022.
The scheme offers capital grants of up to £4,999 to eligible rural businesses to help support their sustainability, development and recovery.
Successful applicants can use the grant aid to support the purchase of new capital items including equipment, machinery and e-commerce websites – which cost at least £1,000 and no more than £20,000.
Helping support around 123 local projects at a total investment of nearly £873,000 since its launch in 2019, the fourth instalment of the scheme aims to reach out to and support those businesses most in need.
Funded through the Department of Agriculture, Environment and Rural Affairs' (DAERA) Tackling Rural Poverty and Social Isolation Programme, the Rural Business Development Grant Scheme is open to existing rural micro-businesses that employ less than 10 people. Businesses that received funding under the TRPSI Rural Business Devleopment Scheme in 2019 and in 2020 are eligible to apply.
The capital grants are capped at £4,999 at a match-funding rate of up to 50% from DAERA. The minimum grant award is £500.
Lord Mayor of Armagh City, Banbridge and Craigavon, Alderman Glenn Barr, comments: "With many of our local businesses – particularly those in our rural communities – still dealing with the impact of the Coronavirus pandemic, I am delighted to see council get another opportunity to deliver this small capital grants scheme across our local rural micro-businesses."
"Since its pilot back in 2019, the scheme has invested over £378,000 in this key business sector locally – helping them grow, develop and reach their full potential."
"I would encourage all eligible rural businesses to check it out and consider applying."
Further information:
The scheme is open for applications from Wednesday 4 May 2022 and closes at 12noon on Tuesday 31 May 2022.
Prior to submitting an application all eligible businesses must attend a pre-funding workshop, which are being held on:
Wednesday 4 May 2022 @ 10.00am – 11.00am – Palace, Armagh
Friday 6 May 2022 @ 10.00am – 11.00am – Banbridge Enterprise Centre
Tuesday 10 May 2022 @ 9.30am – 10.30am – Craigavon Civic Centre
Spaces are limited to one person per business at the workshops.
Information on eligibility criteria and how to apply is available at https://www.armaghbanbridgecraigavon.gov.uk/business/ or by contacting the Economic Development team on:
Telephone:  077 0269 6260 / 077 2174 6764