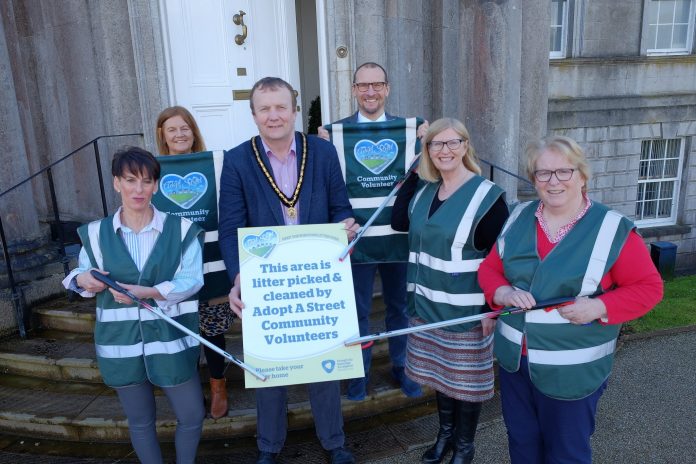 Armagh City, Banbridge and Craigavon Borough Council's Adopt-a-Street scheme is getting an upgrade!  As spring brings with it the lighter nights and warmer weather, our Adopt a Street volunteers will be easily spotted out-and-about in our villages and towns litter-picking and taking care of their local environment, proudly displaying their new eye-catching vests.
The Adopt-a-Street scheme aims to support local residents, schools and businesses who wish to commit to look after a specific 'adopted' area to keep clean, tidy and free from litter. All those taking part help make a difference to the local area and encourage a feeling of community spirit.
Deputy Lord Mayor, Councillor Tim McClelland commented, "Our dedicated volunteers know the harm and damage litter such as single use plastics and takeaway containers can cause to animals and wildlife in our countryside and to the environment, eagerly venturing out in all weathers and conditions to collect discarded litter to be recycled and disposed of properly, they are all to be commended for their hard work and dedication."
You may also notice new signage appearing across the borough, which our volunteers will be installing in the areas they have been active.  Local residents will be able to see that someone who cares about their community has taken the time to litter-pick their area, getting the hard to reach bottles and discarded packaging which may have been hiding in hedges for quite some time.
If you see one of these signs in your village or street please take extra care with your litter and ensure it stays in your vehicle, is put into a bin or taken home for disposal, we don't want to undo the great work of these volunteers, your neighbours.
All our Adopt-a-Street volunteers feel so energised and proud when they invest their time in this worthy venture and love to get some fresh air and steps in whilst helping the local environment.  It may not always seem that they are having an impact on the environment, but every little action, when combined with all those of others, has a positive impact on the climate change crisis. Together we can achieve so much and make such a difference to the future of our borough and the planet.
If you want to get involved with the Adopt-a-Street scheme, as an individual or as part of a group, school or business, simply get in touch at T: 0300 0300 900 or E: and we will provide equipment and ongoing support.