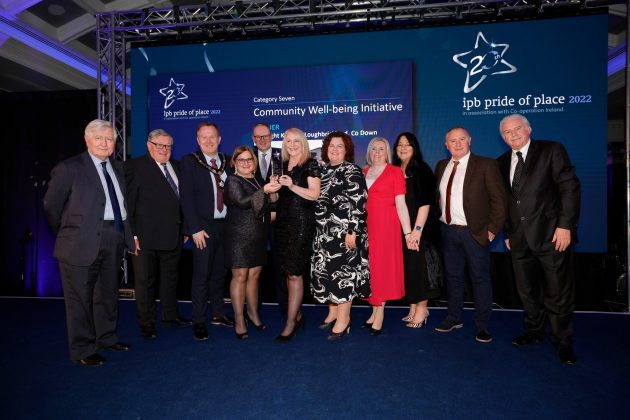 Double whammy of wins for The Right Key and ABC Council shine a light on local exemplars of excellence in community development at the prestigious IPB  Pride of Place Awards.
Now in its 20th year, these awards recognise and acknowledge the invaluable work undertaken by volunteers and those involved in local community development all over the island of Ireland.
Organised by Co-operation Ireland and hosted by RTE's Marty Whelan, over 400 community volunteers and representatives from 35 councils attended the gala event held at the Clayton Hotel, Dublin on Saturday 21 January to hear the winners across 25 categories announced.
The highly contested 'Community Wellbeing Initiative' category went to Loughbrickland-based The Right Key in recognition of the life-changing work they do using music therapy to support the health, healing and recovery of individuals within the borough and beyond.
Pride of Places judges remarked that The Right Key was an outstanding entry. They commended the activities being offered at The Old Schoolhouse and expressed how privileged they felt to meet and hear the very personal stories of despair and recovery by the many men and women involved in this project.
A major highlight of the gala event was a surprise announcement that the 'Council of the Year' title went to ABC Council for submitting a significant number of well-prepared, high-quality entries to the awards over the years. Judges also acknowledged the warm welcome provided by the council during each visit to the borough.
Speaking after the awards, Lord Mayor Councillor Paul Greenfield commented: "The local delegation of community volunteers and council representatives who attended this year's Pride of Place Awards enjoyed an exceptional evening.
We're overjoyed that The Right Key got the recognition they deserve for making a real difference to the health and wellbeing of so many people and are equally proud of our other groups, Craigavon and Banbridge Volunteer Bureau and Armagh County Show, for being nominated for the sterling work they do to support volunteering and boost tourism in the borough.
Of course the night ended on a jubilant high when we unexpectedly clinched the 'Council of the Year' Award. This achievement represents a ringing endorsement of our ongoing efforts to champion local groups for the remarkable work they do. It also acknowledges the key role that our Community Development team play in creating a stronger, more vibrant and thriving voluntary and community sector supported through The Executive Office's District Good Relations Programme.
Thanks to Co-operation Ireland and the Pride of Place Committee for organising these awards and to Dublin City Council for hosting a spectacular evening."
Pride of Place founder and Chairman Tom Dowling said, "It is 20 amazing years since the very first awards ceremony and the ethos of the awards has never changed. It continues to be about acknowledging and recognising in a meaningful manner the important caring work of all our communities as they continue their daily journey of making the path of life easier for all."
Find out more about the winners of the IPB Pride of Place Awards 2022 at prideofplace.ie