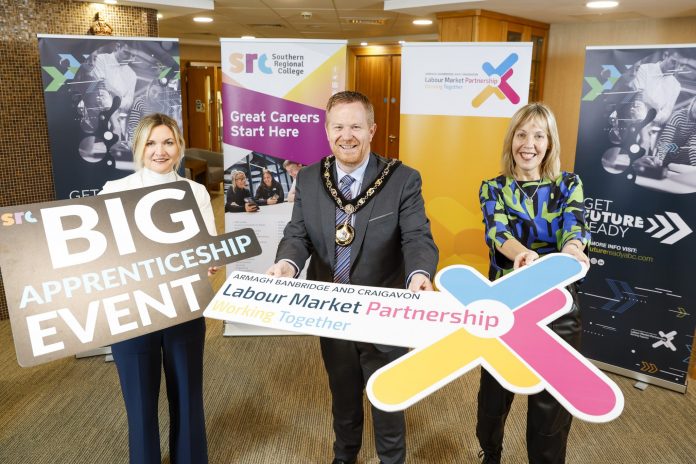 There was certainly a buzz in the air last night as The BIG Apprenticeship Event returned to the Craigavon Civic and Conference Centre. A key event in the Armagh, Banbridge and Craigavon (ABC) Labour Market Partnership's Get Future Ready campaign, The BIG Apprenticeship Event seen over 700 people attend. The event was open to all, school leavers and people seeking a career change.
Attendees were able to quiz local employers on available career opportunities and Southern Regional College on the many Apprenticeship and Higher Level Apprenticeship (HLA) programmes. Over 50 employing businesses and exhibitors were at event including NI Water, Kingspan Water & Energy and Tayto Group, covering a range of sectors from robotics, accountancy, beauty therapy, construction, engineering, hairdressing, and transport to science.
---
Lord Mayor of Armagh City, Banbridge and Craigavon, Councillor Paul Greenfield commented:
"Skills are a key priority for the growth of our local economy, and the wide range of apprenticeship and Higher Level Apprenticeship opportunities on offer at yesterday's event are critical to this economic development,"
Lord Mayor Greenfield continued: "As the lead organisation in the Armagh, Banbridge and Craigavon Labour Market Partnership, council was delighted to support Southern Regional College in delivering this fantastic event, and help get local people closer to work and into work so everyone can achieve their full potential. With more employability and skills events taking place this month through the Get Future Ready programme, I would encourage everyone interested in exploring the many career and training opportunities available in the borough, to check out what's happening near you at the dedicated online hub getfuturereadyabc.com."
---
Attendees had the opportunity to hear from current and past apprenticeship students, through drop in 'My HLA/Apprenticeship Journey'- sessions, and the many apprentices manning employer stands.
This enabled attendees to grill apprentices in detail on their thoughts of apprenticeship routes and courses, and the business they are employed with. When asked why these individuals decided to undertake an apprenticeship or HLA, attendees were quick to point out the positives of the programme: "You don't end up with a big student debt" and "You get a balance of study with real life work experience".
Apprenticeships offer students a qualification or even a degree without the burden of tuition fees as courses are fully funded by The Department for the Economy, so no hefty student tuition fees. There is also the added advantage of having several years of skills and relevant work experience!
The College career guidance team were also available to speak with and guide attendees through the many career routes available. Curriculum and support staff on hand from SRC to offer advice on all apprenticeship courses, the application process and support services open to applicants.
Brian Doran, Principal & CEO of Southern Regional College further commented:
"We were delighted to see over 700 young people and their families attend our recent Big Apprenticeship Event at Craigavon Civic and Conference Centre.  These events are important in showcasing the breadth and depth of apprenticeship training opportunities offered at Southern Regional College from level 2 right through to Degree level.  
"Apprenticeships are an exciting option for people young and older, as they gain practical hands-on training while also having the chance to put their skills into practice in the workplace. The Apprenticeship pathway allows people to earn whilst learning at College and in the case of higher level apprenticeships, participants can obtain degree level qualifications without the level of student debt synonymous with full time higher education.
"The College partners with over 700 local businesses in offering Apprenticeship opportunities across a wide spectrum of areas from construction, software development to life science and digital communication. Apprenticeships are co-designed with business and industry thus ensuring that the knowledge and skills that are at the core of every apprenticeship are both up to date and relevant. 
"Apprenticeships are increasingly being used by employers, both large and small, as part of their development planning to harness new talent and thus create a loyal and motivated workforce. Our Big Apprenticeship Event is supported and sponsored by Armagh City, Banbridge and Craigavon Borough Council and saw over 50 employers in attendance to provide information on apprenticeship vacancies within their businesses."
To find out more information or make your application, click here.
To search for available events within the month-long Get Future Ready series and book your place, visit the special online hub: getfuturereadyabc.com.