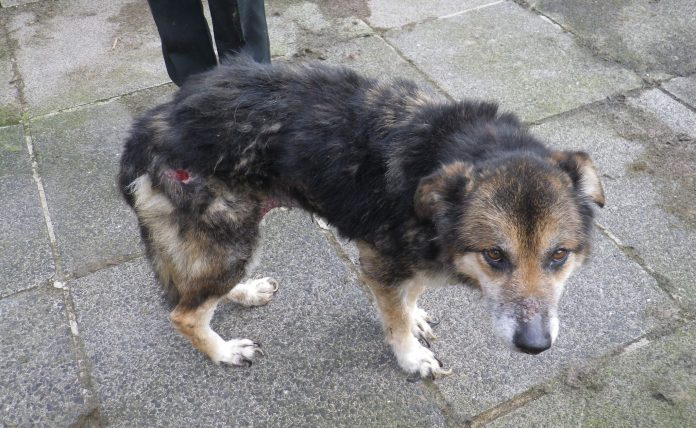 Mr David Fryers from Portadown has been fined £200 and ordered to pay a further £157 in legal and court fees including a £15 offender's levy after pleading guilty to causing unnecessary suffering and failing to ensure the welfare of two dogs in his care. He has also been disqualified from owning animals for one year.
Appearing before Craigavon Magistrates Court on Tuesday 7 February 2023, the defendant admitted to committing offences under Section 4 and Section 9 of the Welfare of Animals Act (Northern Ireland) 2011.
Having received a complaint in November 2020, an Animal Welfare Officer from Armagh City, Banbridge and Craigavon Borough Council visited the defendant's property on the Seagoe Road on several occasions but got no response.
After the defendant failed to respond to a number of letters requesting him to make contact to arrange a visit, a warrant was obtained permitting the Animal Welfare Officer,  accompanied by the PSNI and vet, to gain entry to the property.
Two dogs were found in the kitchen in extremely poor and filthy conditions. The floor was soiled and there was an overpowering smell of dog faeces and urine throughout the property. The outdoor area was littered with faecal matter and a pile of wood with exposed nails was considered to pose a risk of injury to both animals.
The vet deemed both dogs to be suffering after an examination showed overgrown and unkempt coats, skin lesions and overgrown nails indicating chronic neglect and lack of exercise. Both dogs were taken into council care and successfully rehomed in October 2021.
A Council spokesperson commented: "This ruling will hopefully serve as a reminder that anyone who owns a pet must take proper steps to care for them, as required under the Welfare of Animals Act (NI) 2011. The Council will take action against anyone who fails to ensure the welfare of an animal. Where necessary, they will brought before the courts and dealt with appropriately."
To report suspected cases of animal cruelty and neglect, contact the Animal Welfare Team on 028 3751 5800 or email