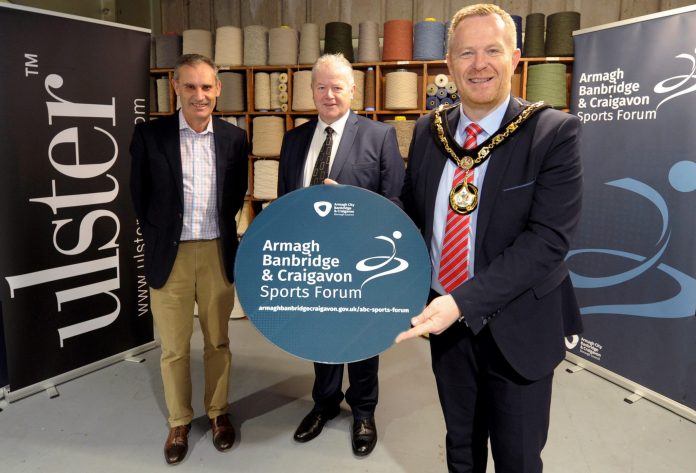 It's time to shine a light on the borough's top sporting talent and to ensure high-performing athletes get the recognition they deserve for their sporting achievements at the Armagh Banbridge and Craigavon Senior Sports Awards 2023.
Organised by Armagh Banbridge and Craigavon Sports Forum in partnership with ABC Council, these annual awards recognise elite sportspeople who have excelled in their chosen sport, and at the same time, acknowledge the outstanding contribution of coaches and volunteers who have helped build on the borough's reputation for sporting excellence. 
Lord Mayor Councillor Paul Greenfield recently visited the head office of headline sponsor, Ulster Carpets, at Castleisland Factory in Portadown to officially launch the ABC Senior Sports Awards.
He said: "Firstly let me take this opportunity to thank Ulster Carpets for sponsoring these awards once again. We are very grateful for their support in helping celebrate the achievements of the borough's most talented sportspeople. 
The council is proud to honour the crème de la crème of local sporting talent at these awards and to make sure their success does not go unrecognised.
Anyone can put forward the names of those who are at the top of their game and have performed brilliantly while playing sport at an exceptionally high level this year.
I look forward to attending the awards ceremony in March next year and hearing about the fantastic achievements of athletes, teams, clubs, coaches and volunteers."
Established in 1938 in Portadown by George Walter Wilson, Ulster Carpets are still owned and run by the founder's family and have grown to become the premier supplier of Axminster and Wilton carpets to the world market.
Nick Coburn, Group Managing Director of Ulster Carpets, said: "We have sponsored the ABC Senior Sports Awards for a number of years and are delighted to continue this support this event as headline sponsor once again.
Supporting the local community remains an important philosophy for Ulster Carpets and we see a direct correlation between the strong values promoted through sport, such as hard work, perseverance and respect with what we look for in our employees."
Nominations are open for the following award categories: Sports Person/Team with a Disability; Sportswoman of the Year; Sportsman of the Year; Senior Team of the Year; Senior Coach of the Year; Service to Sport; Volunteer; and Club of the Year.
To qualify, nominees should compete at county/regional level or above for achievements between January and December 2022 and must be over 18 at the time of competition.
Nominations must be submitted online before the closing date of 5pm on Friday 6 January. View guidance notes and nominate at www.armaghbanbridgecraigavon.gov.uk/seniorsportsawards
The shortlisted nominees will be announced in January 2023 and the awards ceremony will be held on Thursday 9 March 2023 at the Seagoe Hotel, Portadown.
For further information, contact Sports Development on 07733 596612 or email