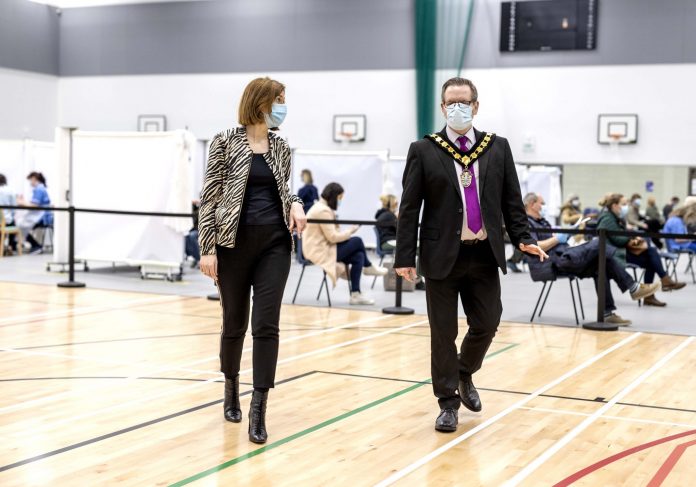 Lord Mayor, Councillor Kevin Savage, visited the Covid-19 Vaccination Centre at SLLC this week to thank the staff for their amazing work and to see first-hand the impressive rollout of the vaccines.
To date, over 70,000 people have been vaccinated at the centre, with over a thousand people booked in to receive their vaccine every day.
He said "The Covid-19 vaccination programme across this area has been a real success story thanks to the tireless work of Southern Health and Social Care Trust staff and volunteers. I am incredibly proud of all the staff, volunteers and medical professionals who are all playing their part in this extraordinary collective effort to help us emerge from this crisis.
"We still have a long way to go, but with the commitment, hard work and dedication shown by so many, I am confident that the vaccination programme will continue to roll out efficiently."
As a small token of thanks, the Lord Mayor issued free lunch vouchers to the vaccine staff for use at Café incredABLE at South Lake Leisure Centre.
Please note, people who are aged over 50 can now book a Covid-19 vaccine. To book an appointment, please do so online if possible: vaccinations.covid-19.hscni.net/booking
If online booking is not possible, then the telephone booking number is 0300 200 7813 (booking line is open 8am to 8pm, Monday to Friday).
Find out more about the Covid-19 vaccination programme at https://bit.ly/3nA47BO