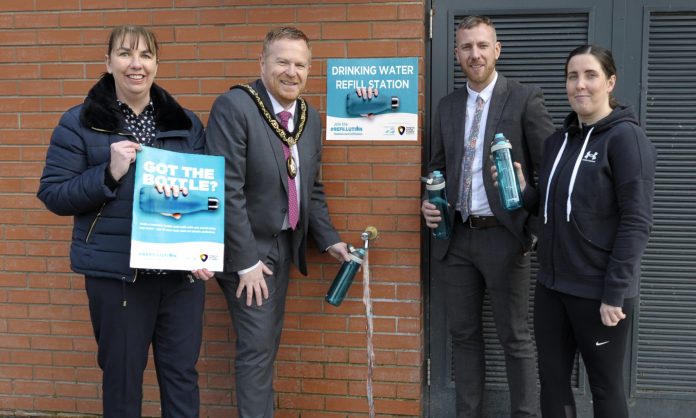 Did you know, that when you are exercising throughout the borough of Armagh, Banbridge and Craigavon, that there are many facilities on hand to refill your water bottle?
In fact, we have joined forces with the Couch25K programme to encourage you to join the #refillution and use the water refill points located in many parks and facilities when you are out running!
Hydration when running is of paramount importance – and now you can ensure that if your water bottle runs dry, that there will be somewhere close by to refill!
This also means that as well as looking after your own health, you are also playing your part in reducing the amount of plastics that end up in landfill – plastics that never, ever break down.
Northern Ireland uses a staggering 145 million single use plastic bottles every year – meaning the average person uses 150 plastic water bottles annually. Many are often discarded, ending up polluting our rivers and seas, harming animals and sea life and leaving a lasting mark on our planet.
In fact, research currently suggests that plastic is making its way into our bodies through the air we breathe and the food we eat.
Recycling our plastics is of course very important – but what is even better, is to try and stop using plastic altogether when possible.
An easy way to do this is to stop using disposable plastic water bottles and instead move to a culture of 'reusing and refilling'. Buy a reusable water bottle and use this when our running in our borough – and when you need a top up, use one of our water refill points to replenish your bottle! Easy!
"Our #refillution campaign is a very simple campaign but one that can have a huge impact in helping people to change their thinking when it comes to using disposable water bottles," commented the Lord Mayor, Councillor Paul Greenfield.
"It is so important to try and stop this disposable, single-use culture and move to a more sustainable solution – and using our refill points when out and about in the borough is a super simple and effective place to start. So get yourself a reusable water bottle and take advantage of the refill water points and do your bit to help our environment – and save yourself money too!"
There are 28 water refill points across parks and council facilities within the borough – you can find them here: #Refillution – Water refill points – Armagh City, Banbridge and Craigavon Borough Council (armaghbanbridgecraigavon.gov.uk)
Council runs Couch25K programmes regularly – both in person and virtually – throughout the year. Click here to find out more and to join in! Couch to 5k – Get Active ABC