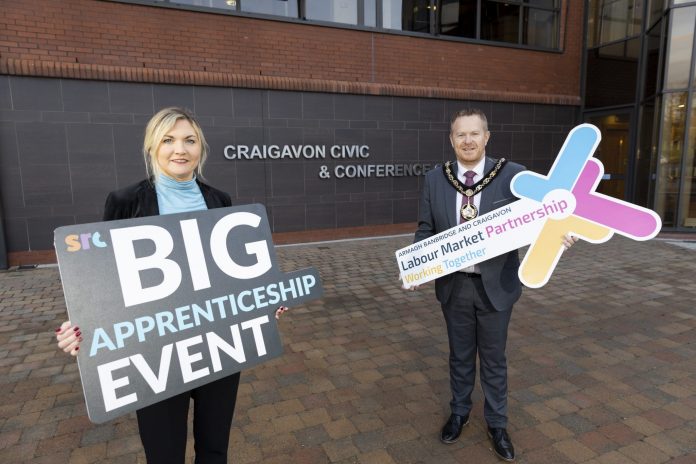 The BIG Apprenticeship Event returns to the borough this February as part of the Armagh, Banbridge and Craigavon (ABC) Labour Market Partnership's Get Future Ready campaign.
A month-long series featuring over 30 events, Get Future Ready will see everything from 'how to' demonstrations, 'look and learn' opportunities and employer visits to a job fair and an employability and skills conference – all designed to help give local people the chance to gain valuable experience and inspiration to explore the many employment opportunities right here in the ABC borough.
A key event within Get Future Ready, The BIG Apprenticeship Event will take place at Craigavon Civic and Conference Centre on Thursday 09 February from 5:30pm to 7:30pm, and will see employers, careers advisors and Southern Regional College (SRC) staff come together in person to talk about all things careers.
---
Lord Mayor of Armagh City, Banbridge and Craigavon, Councillor Paul Greenfield commented:
"At a time when investment in local skills and development as well as support for education and training is of the utmost importance, the work of the ABC Labour Market Partnership and its many initiatives like Get Future Ready and The BIG Apprenticeship Event could not be timelier. Alongside our partners, we are committed to driving the vision of the LMP to help get local people closer to work and into work so everyone can achieve their full potential.
"I would encourage everyone – from school leavers to those seeking employment or a new job – to come join us this month and hear more about the vast choice of career pathways, training opportunities and support available in the borough!"
---
Also, part of the Department for the Economy's Apprenticeship Week, the event is open to all – even those who seek a career change – and aims to help people, regardless of their current education find a course to propel themselves into a future career.
In focus will be Apprenticeships and Higher Level Apprenticeships (HLAs). HLAs offer the opportunity to gain quality training while achieving a sought-after industry foundation degree or top up degree. A HLA programme works by placing a person aged 18+ with a partnering business for paid industry experience four days a week together with attending the College for one day. The benefits of HLAs are becoming well known as people can earn whilst they learn, with no tuition fees being payable as the programme is fully funded!
School leavers and young people have not been forgotten about either, with multiple level 2 and level 3 apprenticeships being offered in a diverse range of subjects. Again, apprenticeships are funded meaning it's more viable to learn a trade and receive a wage whilst on the job training occurs.
The event is jammed packed with the knowledge and resources to help people find their future careers. It will be possible to make a course application to SRC on the night as SRC staff will be on hand to assist.
Lee Campbell, Director of Finance & Planning at Southern Regional College commented:
"We are delighted to be part of the initiative with Armagh, Banbridge and Craigavon's Labour Market Partnership to give local people insight into career paths here within the council area.  We would encourage you to take advantage of the opportunities available throughout February to enhance your employability and skills prospects. We look forward to seeing you!"
To make the most of The BIG Apprenticeship Event and target the right employers, take a look at SRC's website for the most up to date information on Apprenticeship and Higher Level Apprenticeship course offerings by clicking here.
To register for The BIG Apprenticeship Event, head over to SRC's website to snag your place by clicking here. You can also turn up at the event.
To check out the full suite of Get Future Ready events and book your place, visit the special online hub: getfuturereadyabc.com.