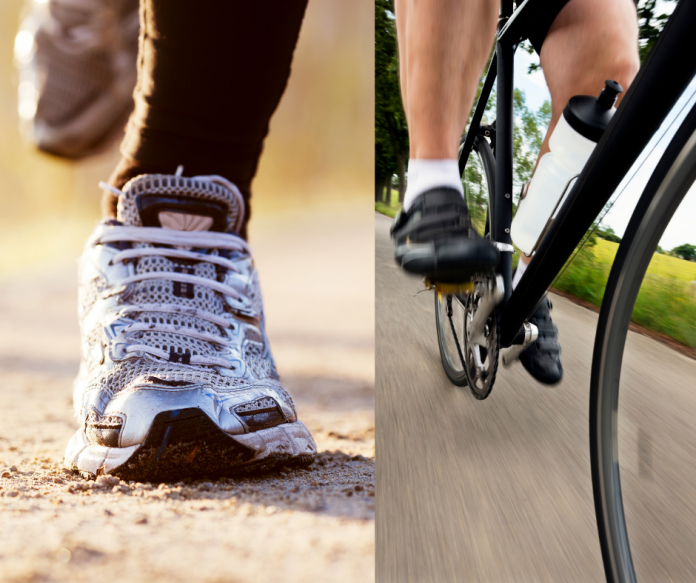 Move your running or cycling up a gear this spring with ABC Council's free virtual 5km to 10km and Sofa to Saddle training programmes!
Part of Armagh City, Banbridge and Craigavon Borough Council's Get Moving ABC initiative, the free virtual training programmes are open to all residents across the borough and will both get off the mark on Monday 12 April 2021.
Perfect for those who have recently completed a Couch to 5km programme or for those keen to increase their running distance; the 5km to 10km virtual training programme will support participants as they take their running to the next level. Over the course of 10 weeks, the programme will involve three running sessions per week leaving from your own front door on the days and times that suit you best.
Alternatively, if cycling is more your sport, why not try our virtual Sofa to Saddle programme! The concept is simple and suitable for recreational cyclists who need a little extra encouragement and advice on how to get off the sofa and back into the saddle. The eight-week programme is suitable for those aged 12 years and above, no matter their competency level.
Lord Mayor of Armagh City, Banbridge and Craigavon, Councillor Kevin Savage said:
"Now more than ever it is especially important for us to be physically active! Exercise is essential for our physical health and mental wellbeing; it's proven to help the body and mind to relax, not only does it release happy hormones, boost the immune system, reduce anxiety and depression but it also promotes weight loss, and improves sleep quality!

"So whether you're into running or cycling, the ABC Council's virtual 5km to 10km and Sofa to Saddle training programmes are perfect to help you stay active and exercise safely; I would encourage everyone to sign up and give it a go!"
Both virtual training programmes will see participants receive support, guidance and motivation from expert, qualified coaches and instructors; helping runners and cyclists increase their confidence and fitness levels and achieve that sought-after medal upon completion.
So what are you waiting for? Grab your trainers or your bike and sign up today!
How to register
To register for the Virtual 5km to 10km Programme click here. To register for the Virtual Sofa to Saddle Programme click here. For more information about both programmes contact .