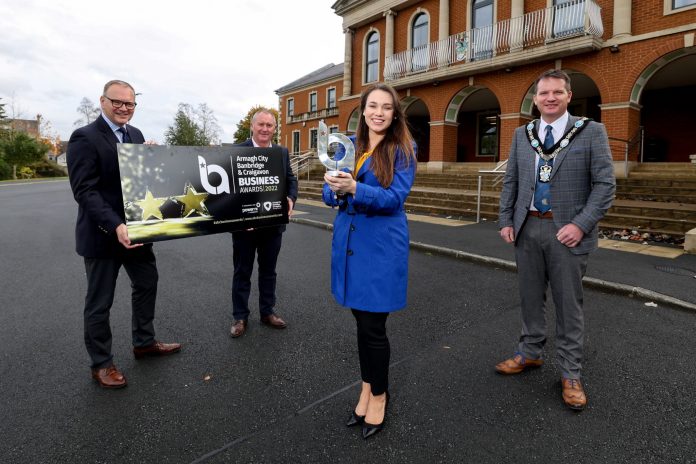 A record response from local business has seen 50 shortlisted businesses and individuals from over 120 entries making it through to the finals of the ABC Business Awards.
50 finalists, chosen by a panel of independent judges from an unprecedented number of entries, will now be interviewed to determine the winner in each of the 14 categories.
Judges were staggered by the number of new businesses entering this year's awards, showing that the entrepreneurial spirit of the Armagh City, Banbridge and Craigavon Borough hasn't been dampened by the challenges of the last couple of years.
The awards are designed to recognise local business success, growth and innovation across a range of sectors and the borough-wide event, held in partnership with Power NI, will take place in person on Thursday 24 February 2022 at the Seagoe Hotel, Portadown, hosted by presenter Sarah Travers.
Lord Mayor of Armagh City, Banbridge and Craigavon, Alderman Glenn Barr said:
"The ABC Business Awards represent an opportunity to showcase the borough's outstanding business community, allowing us to applaud the work they do and highlight the passion of those individuals who go above and beyond to drive continued business growth. I am very much looking forward to celebrating our talented and ambitious business community in person at the live awards ceremony next month."
Amy Bennington, Commercial Marketing Manager at Power NI, commented:
"We're delighted to see so many businesses getting involved this year in the ABC Business Awards, and it allows us to really showcase our local success stories. Good luck to all those shortlisted and we look forward to announcing the winners on 24th February at the awards ceremony."
The ABC Business Awards will include the prestigious Sir Allen McClay Young Business Person of the Year Award as well as recognition awards for Best New, Family, Hospitality, Agri-Food Businesses, Innovation, Social Enterprise, and the Commitment to Sustainability and Responsible Business Award.
New awards this year are Best Place to Work and Transport and Logistics Award. In addition to an award for Best Apprentice Employer, sought-after awards are also available for Best Business Growth, Excellence in Manufacturing, and Customer Service.
To learn more about the event, categories and shortlisted companies, please visit www.abcbusinessawards.com. Tickets are priced at £60 + VAT and can be purchased by emailing .
Shortlist of ABC Business Awards 2022 Finalists:
The Sir Allen McClay Young Business Person Award
Bill McAtavey – Azil Racking and Shelving Ltd – Armagh
Conor Donnelly & Lorcan McGillan – AIC Group Limited – Armagh
Sara-Louise Strain – Eden Beauty – Portadown
Best New Business Award
Constructtuition Ltd – Magheralin
Glaze & Roll Coffee – Armagh
Karri Kitchen Ltd – Craigavon
The Mill Café and Bagel Bar – Lurgan
Commitment to Sustainability and Responsible Business Award
Armagh Cider Company Ltd – Armagh
Irwin M&E Limited – Portadown
Paul McAlister Architects Ltd – Portadown
Best Hospitality Business Award
Blackwell House – Gilford/Armagh
Café Marmalade – Banbridge
Sinton's at the Bridge – Scarva
The Yellow Door Deli – Portadown
Excellence in Manufacturing Award
Alternative Heat Ltd – Banbridge
Drumhorc Pallets – Craigavon
Weld & Go Ltd – Craigavon
Excellence in Customer Service Award
Eden Beauty & Co – Portadown
Café Marmalade – Banbridge
Irwin M&E Limited – Portadown
Maxx Life Gym – Armagh
Best Innovation Award
Data Innovation Hub / Healthcare Analytics – Bleary
ubloquity – Craigavon
Weld & Go Ltd – Craigavon
Best Social Enterprise Business Award
incredABLE (incorporating incredABLE Enterprises) – Richhill
Madlug – Richhill
Thrive Academy – Portadown
Best Business Growth Award
Alternative Heat Ltd – Banbridge
Donaghy Shoes Ltd – Banbridge
Holmes Bakery – Craigavon
Best Family Business Award
David Jameson Roofing Services Ltd – Portadown
Derry Bros – Armagh
Donaghy Shoes Ltd – Banbridge
Emerson's Supermarket Armagh – Armagh
Manfreight Limited – Portadown
SDG – Armagh
Shanaghan Farm, Veterinary Services and SVS Equine
Best Apprentice Employer Award
Almac Group – Craigavon
Irwin M&E Limited – Portadown
Turkington Windows & Conservatories – Portadown
Thompson Aero Seating – Craigavon
Best Place to Work
Home Instead – Banbridge
Irwin M&E Limited – Portadown
Portadown Locksmiths Ltd – Portadown
Staffline Ireland – Portadown
Best Agri-Food Business Award
Armagh Cider Company Ltd – Armagh
Holmes Bakery – Craigavon
Long Meadow Cider – Armagh
Best Transport and Logistics Award
ABC Oils – Portadown
Manfreight Limited – Portadown