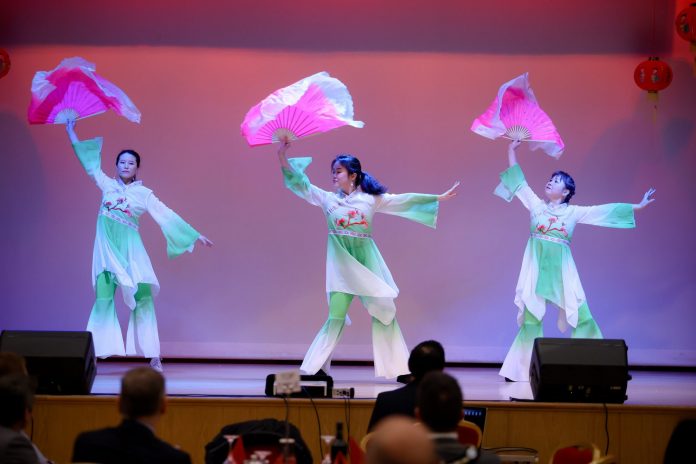 Armagh City, Banbridge and Craigavon Borough Council hosts special cultural event to celebrate the wonderfully joyous Chinese New Year.
Held at Craigavon Civic Centre last Monday (7 February), the colourful showcase was attended by representatives from the Wah Hep Chinese Community Association and featured stunning performances from Weihong's Dance Group.
Officially beginning on 1 February, festivities to mark the occasion – also known as Lunar New Year or Spring Festival – run for over two weeks. Based on tradition each year is linked to one of 12 Chinese Zodiac animals: Rat, Ox, Tiger, Rabbit, Dragon, Snake, Horse, Goat, Monkey, Rooster, Dog and Pig. 2022 marks the year of the Tiger – in particular the Water Tiger – which is characterised by very good interpersonal relationships and family values.
"I am delighted to attend this event to mark Chinese New Year – one of the biggest and most auspicious festivals celebrated all around the globe," commented Lord Mayor of Armagh City, Banbridge and Craigavon, Alderman Glenn Barr.
"Forming part of council's calendar of cultural festivals, celebrations like tonight represent a unique opportunity for us all to come together and enjoy the diverse heritage, culture and traditions right here in the borough.
"With our city and surrounding borough in the running to become UK City of Culture in 2025, we are committed to sharing all our cultural traditions, heritage and passion for innovation and creativity – the things that make our borough truly unique and worth celebrating. We have an amazing story to tell and we want all our residents to be part of this exciting journey – so I would encourage everyone to get involved and back our bid to win."
Council's Chinese New Year celebration is part of its Community Development Good Relations Programme, which is funded by The Executive Office.
Armagh City, Banbridge and Craigavon Borough Council is asking for everyone to help shape the bid and its hope to awaken interest, knowledge, passion and excitement for what the borough has to offer and will showcase the essence of the place and capture the imagination of the judging panel.
Get involved and join in the conversation at www.armagh2025.com by completing a short survey, or by emailing .