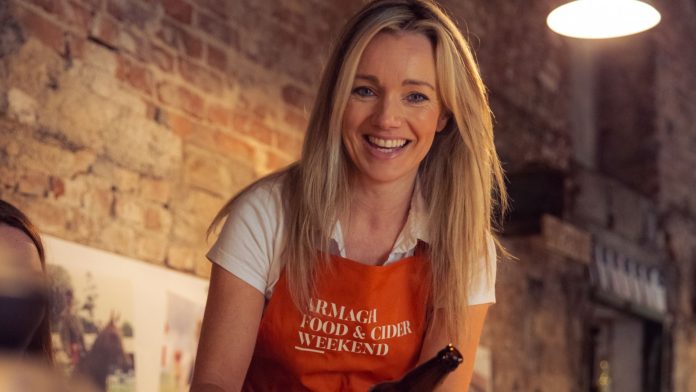 Experience the Orchard County's finest food, drink in a four-day harvest spectacular from 7 September
Armagh's Food & Cider Weekend is back this September with a tasty line-up of new events, fresh features and an unrivalled tasting menu designed to deliver a uniquely memorable experience worth sharing.
From artisan markets, delectable tasting specials, banquets and cidery tours to fiery cooking demos and foraging for food, the island of Ireland's celebrated Orchard County promises an unrivalled gastronomic line-up for food and drink lovers that will embolden its culinary reputation.
In stunning, historical locations and amidst the county's lush apple-laden orchards and parklands, Northern Ireland's official Food Heartland has more than 40 standout events planned from September which celebrate the best food, history and culture of the Cathedral City and its surroundings at harvest time.
Backed by award-winning local chefs, producers and food experts, this year's Armagh Food and Cider Weekend is once again guaranteed to be Northern Ireland's biggest food and harvest celebration.
Deputy Lord Mayor of Armagh City, Banbridge and Craigavon Borough, Cllr Sorchá McGeown, said:
"Outstanding food, quality ingredients and world class cider are always reasons to celebrate which is why we're delighted to welcome back visitors from near and far to experience the fresh menu and new crop of activities at this year's Armagh Food & Cider Weekend.
Packed with great places to eat, and vibrant markets, come along with family and friends to indulge in a culinary kick through our city and enjoy the region's best produce in a one-of-a-kind destination you'll want to come back to. Good food and drink are always on the table in our Food Heartland".
Crannagael House – where Armagh's apple story officially began – is a big feature in this year's programme. Award-winning 4 Vicars team Gareth Reid and his wife Kasia will be serving up a sumptuous Celebration of Cider and Cheese event showcasing the best of local produce, as well as the chance to savour a delicious Sunday lunch prepared by The Cook and The Gardener in stunning Georgian surroundings.
Across the long weekend, well known harvest ambassadors the McKeever family at Long Meadow Cider Company will host a series of special events including a hugely popular 'Flash Fiction' event for new and experienced writers and a relaxed late lunch and apple picking event. There will be a "Granny's Griddle Bread" event with tastings and memories of bread making, just like Granny did.
View the activities happening over the Food and Cider weekend here, www.visitarmagh.com/festivals/food-cider/