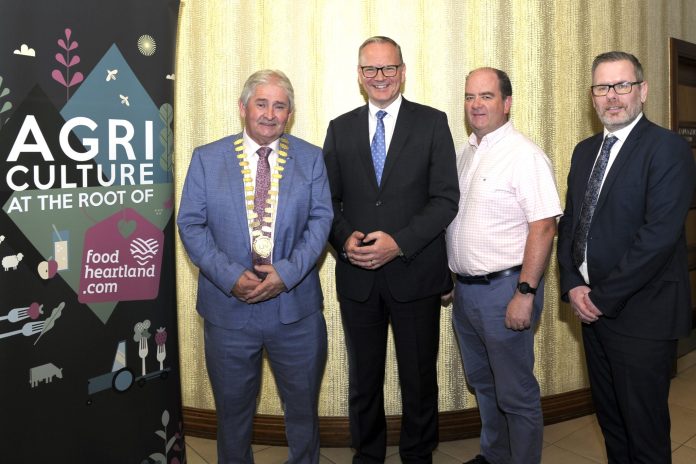 Partners from the Shared Island Agri Food Infrastructure Enabling Growth project gathered in Armagh for a study visit to explore the development of food innovation and agri technologies.
The Shared Island Agri Food Infrastructure Enabling Growth project is a unique collaboration between cross-border local authority partnerships to test the feasibility of new investment projects to be delivered by partners, including: Bia Innovator Campus, Galway County Council, Leitrim County Council, The Food Hub (Drumshanbo), Southern Regional College (SRC) and Armagh City, Banbridge and Craigavon Borough (ABC) Council.
Partners are collaborating on a shared commitment to explore the development of food innovation and agri tech, around three key themes of: Priming Capital Plans; Climate Action; Food and Agri tech Innovation Networking.
During the 2-day study visit, partners visited CAFRE Loughry Food Business Incubation Centre, followed by a visit to Tannaghmore Rare Breeds Farm, which is owned and run by ABC Council. The Farm is the only Rare Breeds Survival Trust approved conservation farm in Ireland.
Speaking about the Shared Island Project, Councillor Kevin Savage, Chair of ABC Council, Economic Development and Regeneration Committee said:
"We are delighted to welcome our shared-island partners to the borough for this important study visit to support the development of the agri-food sector. Our borough has a large rural population where agriculture is deeply rooted and embedded within our generations and local communities.
"As a council, we recognise the importance of the agriculture sector and last year, we unveiled our Agriculture Strategy, the first strategy of this nature in Northern Ireland to support our local farmers, agri-food and agri-businesses. The strategy articulates the role council plays in raising awareness, support programmes, helping farm businesses in skill development and embracing data and technology and supporting the development of food businesses."
On the final day of the visit, the partners attended the 'Co-Creation – Enabling an Agri Food Sector to Thrive' conference at SRC, Armagh Campus. The conference focused on the key themes of innovation and sustainability (delivered by SRC Industry Specialists); food, farm and the environment (delivered by ABC Council); agri technologies and innovation (delivered by representatives from UCD Ag Tech and QUB Agri Food Quest.
The study visit has enabled the partners to focus on innovative opportunities that lie ahead within Agri Food and has fostered collaboration through a shared island approach.
The project is funded by the Shared Local Authority Development Funding.