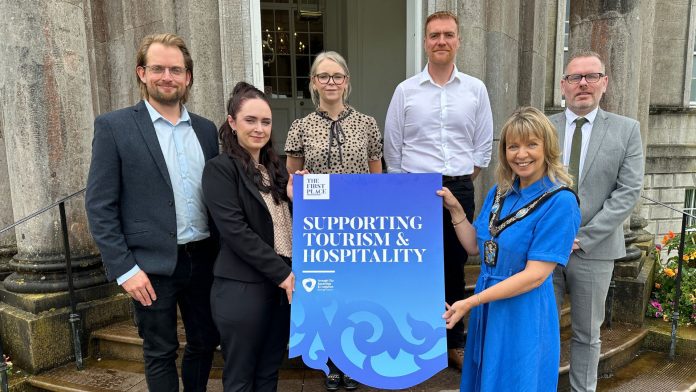 Armagh City Banbridge and Craigavon Council recently hosted  tourism and hospitality businesses to explore the potential for growth in online sales at  The Palace, Armagh on Tuesday 19th September.
In partnership with Tourism Northern Ireland and Tourism eXchange Great Britain (TXGB), the information session aimed to educate local businesses on the advantages of adopting online booking systems and strategies to expand sales by reaching national and international audiences.
The event gained the attention of tourism and hospitality entrepreneurs across the borough, who eagerly participated in the information-packed session.
The session was designed to provide attendees with valuable insights into the benefits of incorporating online booking systems into their businesses. By streamlining operations, enhancing customer experiences, and ultimately driving revenue, businesses were able to grasp the numerous advantages of embracing digital solutions. Furthermore, the speakers emphasised the importance of effectively utilising online platforms to access a broader customer base, catering to the increasing demand for travel and unique experiences here in Northern Ireland.
Lord Mayor of Armagh, Banbridge and Craigavon Borough, Alderman Margaret Tinsley said,
"Our goal is to provide local tourism and hospitality businesses with the necessary tools and knowledge to thrive in an ever-evolving digital landscape. We are delighted to have partnered with Tourism Northern Ireland and TXGB, equipping businesses in the borough with invaluable insights and resources to help them expand their online sales by tapping into a wider customer base."
This information session is part of a series of ongoing supports available to local tourism and hospitality providers through the council's Tourism, Arts and Culture Department. For more information and advice contact email contact: