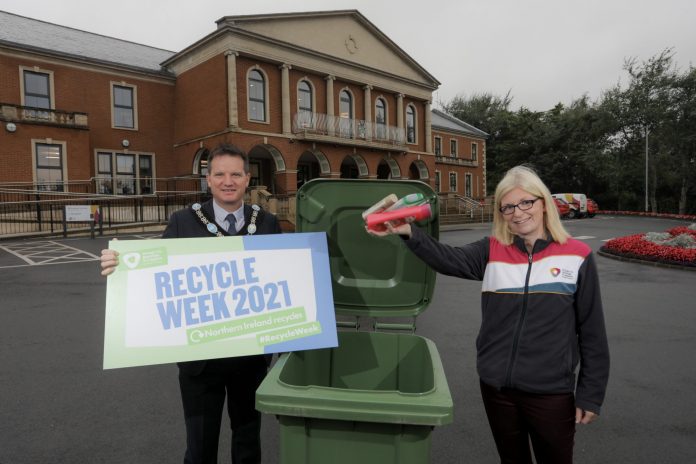 Armagh City, Banbridge and Craigavon Borough Council is getting behind this year's national Recycle Week campaign (20-26 September) by urging residents to 'Step It Up' in the fight against climate change and take action to protect the environment through even better recycling habits.
Recycle Week is the UK's annual event to build awareness of and encourage increased participation in recycling behaviour. The theme of this year's campaign is recycling better to help fight climate change.
Latest research from Recycle Now reveals that almost 9 out of 10 people now recycle. However, 55% of households put items in the general rubbish bin that can be recycled; including foil, aerosols, and plastic toiletry (shampoo and conditioner bottles), plastic trays and cleaning and bleach bottles.
This is where everyone needs to 'Step It Up'. We can all help fight climate change by recycling because recycling currently saves 18 million tonnes of CO2 every year, which is the same as taking 12 million cars off the road.
Lord Mayor of Armagh City, Banbridge and Craigavon, Alderman Glenn Barr, comments: "As a borough, our commitment to recycling has continued to grow. We want Recycle Week 2021 to inspire more people to 'Step It Up' and fight climate change. Recycling is one activity that we can all do to help the planet – even small changes such as recycling aerosols and bathroom plastics can make a difference."
Throughout Recycle Week, the council will show its support by lighting up several of its iconic buildings green on Monday 20 September and using its social media channels and #RecycleWeek to inspire local people to continue recycling more waste at home.
For more information on Recycle Week visit www.recyclenow.com/ni