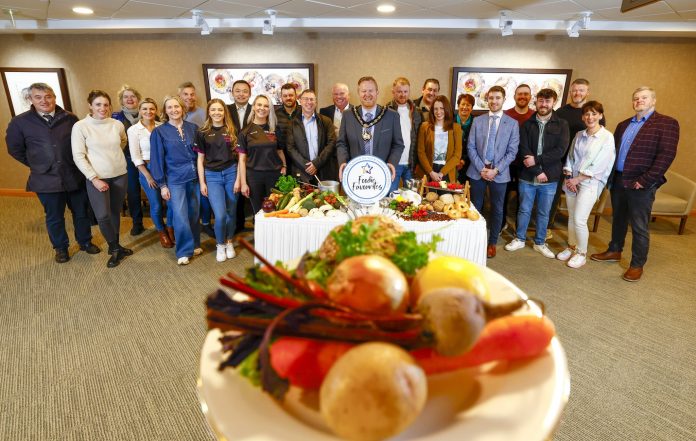 UrbanABC Foodie Favourites Campaign Showcases Delicious Dishes from 25 Dine-in Businesses.
UrbanABC is excited to announce the launch of its Foodie Favourites Campaign, a showcase of the fantastic food available in the Armagh City, Banbridge and Craigavon Borough. 25 dine-in businesses from across the urban centres have joined forces to give locals and visitors alike the opportunity to indulge in a range of mouth-watering dishes.
From morning treats like frys to protein bowls; from bagels to burritos; flavourful Indian dishes to Asian Fusion creations; from traditional homemade dishes and locally-sourced produce, all the cafes and restaurants involved are eager to showcase their culinary delights. Expect to savour  flavours of delicious coffee, sandwiches, tray bakes, juicy steaks, unique dishes, mouth-watering ice cream and delectable desserts. The campaign presents an outstanding chance for visitors as well as locals to explore and discover new dining destinations and relish the wide variety of food options available.
Speaking at the launch of the campaign Lord Mayor of Armagh City, Banbridge and Craigavon, Councillor Paul Greenfield said: "We're thrilled to be launching the UrbanABC Foodie Favourites Campaign to showcase the diverse range of food and drink available across the urban centres of Armagh City, Banbridge, Craigavon, Dromore, Lurgan and Portadown, we hope visitors will join us on this culinary journey and discover new and exciting places to eat."
The campaign has also enlisted Suzie Lee Arbuthnot, also known as @suziecookingthebooks, as its ambassador and local influencer. Suzie is a well-known foodie as seen on BBC, RTE, This Morning, Ireland AM and her new show BBC Food Fest. Her involvement in the campaign will encourage even more people to get involved and explore the fantastic food on offer in the borough.
Each of the 25 businesses involved in the Foodie Favourites Campaign will have a dedicated video and photos produced which will be shared across UrbanABC's social channels, as well as blog posts on the UrbanABC website for you to find out more. Local residents and visitors are being encouraged to keep up to date with the latest developments across the urban centres and discover new culinary gems by following UrbanABC on social media.
The Foodie Favourites Campaign is an excellent opportunity for people to explore and enjoy the vibrant culinary scene of the borough. With so many amazing dishes to discover, there has never been a better time to plan a visit and indulge in some delicious food.
For more information on the UrbanABC Foodie Favourites Campaign, please visit urbanabc.com or follow us on social media. It's time for you to Savour the Flavour of your Foodie Favourites.