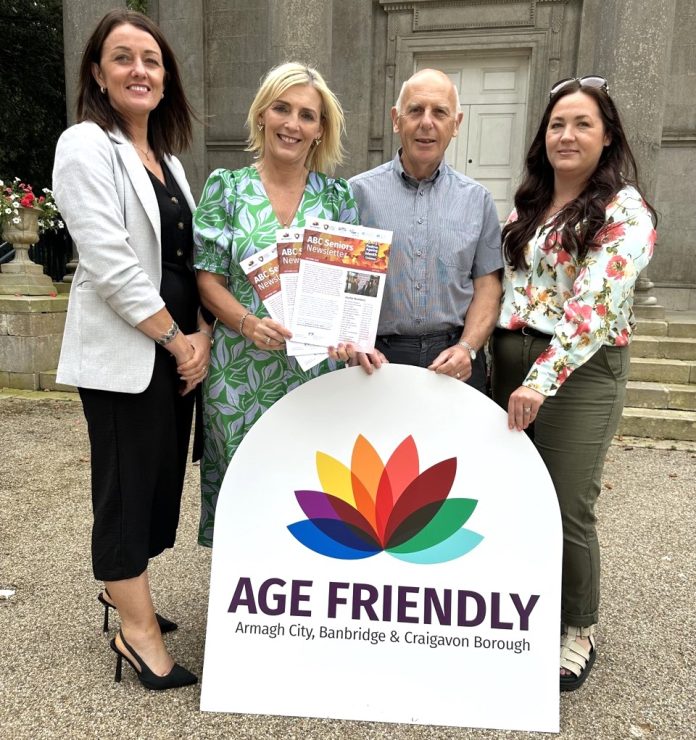 Final preparations are being made for a bumper programme of events to celebrate Positive Ageing Month in October in the Armagh City, Banbridge and Craigavon Borough.
There is an event or activity happening on almost every day throughout the month in our towns and villages, covering a huge spectrum of areas and interests.
You can find out details of the full programme of events for Positive Ageing Month on the ABC Seniors Newsletter by downloading it here – ABC SENIORS NEWSLETTER_Autumn 23
Staying active is a central theme to the campaign and there is a diverse range of physical activities, from badminton, rambling, pilates, tai chi and even some walking football and lots more.
The programme – which is open to everyone aged 50 and over – also includes nature walks and crafts like knitting, flower arranging and some seasonal pumpkin carving.
For those who are still struggling with technology there are IT and cyber safety courses to help us embrace the digital age.
Lord Mayor of ABC Borough, Alderman Margaret Tinsley encouraged people to take a chance on something new.
"In previous years, we have had a great response to the events organised as part of Positive Ageing Month, and this year we expect another great turnout," she said.
"I would encourage those who have not come to these events in previous years, to try out something new.
"I would like to reassure these people that all these events are very informal, and no one will feel under any pressure to take part or to make connections.
"Turning up is enough and we can take it from there."
Stephanie Rock, who is the Age Friendly Officer for the ABC Borough said: "We are delighted by the level of support and engagement we have for Positive Ageing Month in the ABC Borough.
"I would like to thank all those who are stepping forward to help provide these events and activities, which can make such a positive impact for those who take part."
The Age Friendly Officer has worked in partnership with the ABC Policing and Community Safety Partnership (PCSP) to enable the printing of the 24 page newsletter that contains the calendar of events. Clare McConville Walker who is chair of the PCSP said they were delighted with the programme of events planned for the month.
She said: "There really is something for everyone to get involved in during the month. The PCSP understand how vital it is that there are activities for people aged 50+ and Positive Ageing Month can really help create important connections, a sense of community and safety."
You can find out details of the full programme of events for Positive Ageing Month on the ABC Seniors Newsletter which you can receive by calling Stephanie on 07825 010630 or emailing or by visiting the new webpage on the council website – www.armaghbanbridgecraigavon.gov.uk/agefriendly