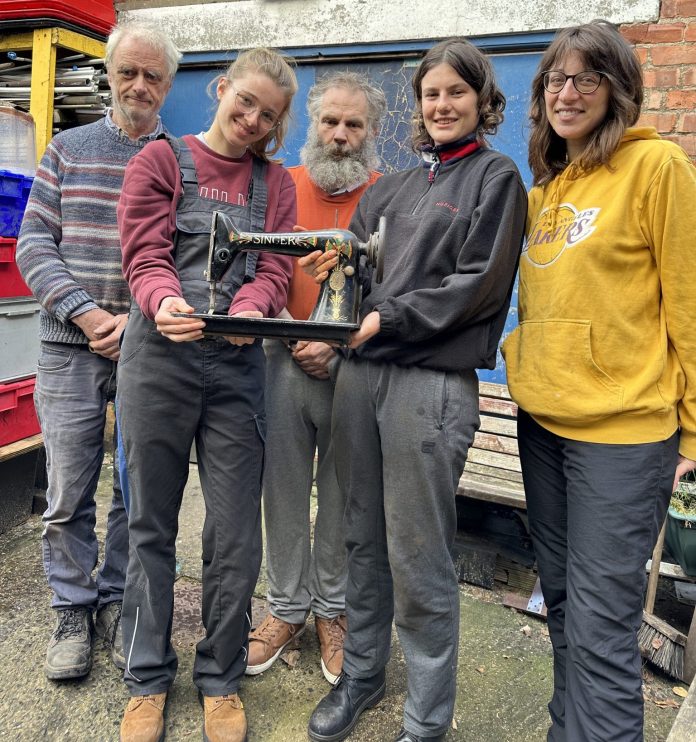 Residents with old or unused sewing machines and unwanted tools are being urged to take them to their local recycling centres, where they will be collected and distributed to communities in Africa to develop crafts and build local economies.
The inspirational Belfast-based charity 'Tools for Solidarity', which equips people in Tanzania to set up their own businesses, is the focus for this year's European Week for Waste Reduction (EWWR) campaign by Armagh City, Banbridge and Craigavon (ABC) Borough Council.
A number of sewing machines have already been handed in to recycling centres across the Borough and the council is using the annual EWWR campaign as an opportunity to encourage anyone who has an unused machine, even if it's broken, to hand them in to the collection.

John Wood who helps run the Tools for Solidarity charity said every sewing machine and tool donated to the collection, would make a major difference to the lives of people living in remote regions of the African country.
"We are delighted that the Armagh City, Banbridge and Craigavon (ABC) Borough Council, has chosen to promote our project as part of this recycling initiative," he said.
"This charity has been going for over 40 years and we have had tools and sewing machines donated from all over the country, but we still need more to meet the demand in Tanzania where the people living in these communities have little or no access to such tools.
"Other tools that are donated, are helping other trades and crafts in the country, like builders, carpenters, auto-mechanics and shoemakers.
"We also help provide training to the people there, so that they can use and repair these tools. When it comes to sewing machines and tools, the older – the better, as the quality is there."
Lending her support, the Lord Mayor of ABC Borough, Alderman Margaret Tinsley said the appeal offered "benefits for everyone".
"I am delighted that our council is promoting such a worthy cause during the European Week for Waste Reduction (EWWR) and I would encourage anyone who has an old sewing machine lying in a cupboard to bring it along to the recycling centre, and bring along any other old tools they don't need," she said.
"There are benefits for everyone. Not only are we reducing waste, we are also helping communities in Tanzania, thanks to the wonderful work of the 'Tools for Solidarity' charity who are making a really important impact on the ground."
Sewing machines can be brought along to the following recycling sites where they can be stored for collection – New Line, Tandragee Rd, Lurgan; Fairgreen, Duke Street, Portadown; Banbridge, Scarva Road, Banbridge and Armagh, Station Road, Armagh
Opening times of the recycling centres can be found at www.armaghbanbridgecraigavon.gov.uk/recycling-centres
For more information on the vital work carried out by the Tools for Solidarity charity, please visit their website  – www.toolsforsolidarity.com/