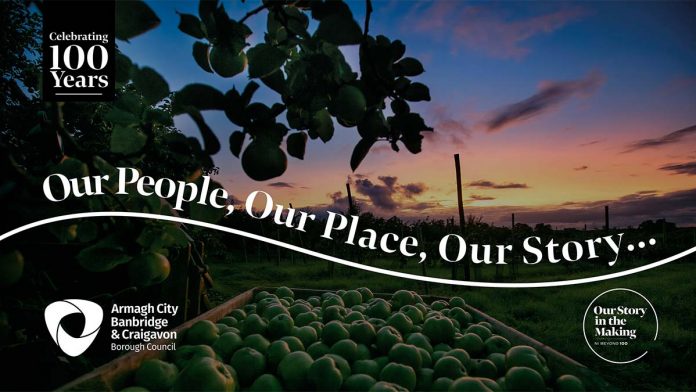 ABC Council reveals packed programme to mark centenary year
Armagh City, Banbridge and Craigavon Borough Council launches its 'Our People, Our Place, Our Story' campaign to mark the centenary of Northern Ireland and to showcase the borough as an attractive place to live, visit and do business.
The programme will deliver a series of events and activities exploring the history, heritage and community of the borough over the past century, through arts and culture, educational talks and tours, exhibitions and events.
Launching the Our People, Our Place, Our Story programme, Deputy Lord Mayor of Armagh City, Banbridge and Craigavon said,
"We are delighted to officially launch this celebratory programme and invite people to share in a packed programme of events including talks, tours, exhibitions and events all designed to mark the centenary of Northern Ireland.
"Celebrating Our People, embracing Our Place and sharing Our Story is aimed at engaging local communities, businesses and visitors in order to highlight our borough as a place we are proud of and which is welcoming to all.
"Our borough has so much to offer and with this exciting programme we look forward to working with our local communities and businesses and invite everyone to join in our programme of discovery. With our first event in May, starting with the first of a series of historical talks, we have something the whole community can engage in, explore and enjoy."
Planned events include:
The History Series – to open the series historian and broadcaster Dr Éamon Phoenix will deliver a special Zoom lecture in conjunction with Ann Donnelly of Northern Ireland Screen on 'Partition and the Creation of Northern Ireland 1910-22'.
100 years of Business in the Borough – a shared history project reflecting and highlighting local businesses over the last 100 years.
100 places to visit across the Borough – showcasing the borough, plan your adventure to discover and explore a range of hidden gems, while embracing our place and sharing our story on social media.
Plantation to Partition and Beyond Education Programme – an interactive Education and Living History school outreach programme using drama and workshops.
Armagh County Museum Centenary Exhibition – using the museum's collections this exhibition will explore the establishment and development of Northern Ireland, how changes in the decades following 1921 affected the local community, focusing on areas such as rural, economy, infrastructure and education.
100 Years of People, Places and Events – this exhibition will highlight notable people, places and events within the borough over past 100 years using a timeline of decades to narrate our story, emphasising some of the rich literary, artistic, sporting, scientific and environmental achievements across the borough.
Drums of Northern Ireland – a hands-on workshop and demonstration on the history, traditions and cultures of different drums in Northern Ireland.
Food of the Borough Tour – savour everything we have to offer and enjoy world-renowned award winning food and drink with some of our borough's most iconic producers.
Centenary Family Event – hosted in the autumn an outdoor family fun celebratory event.
Due to COVID-19 government restrictions, event details may vary and some activities may take place online. The very latest information can be viewed by visiting www.ourpeopleourplaceourstory.com.  Throughout the year, this online platform will be updated to include details of all upcoming events, and you can follow our social media channels for all the latest coverage.