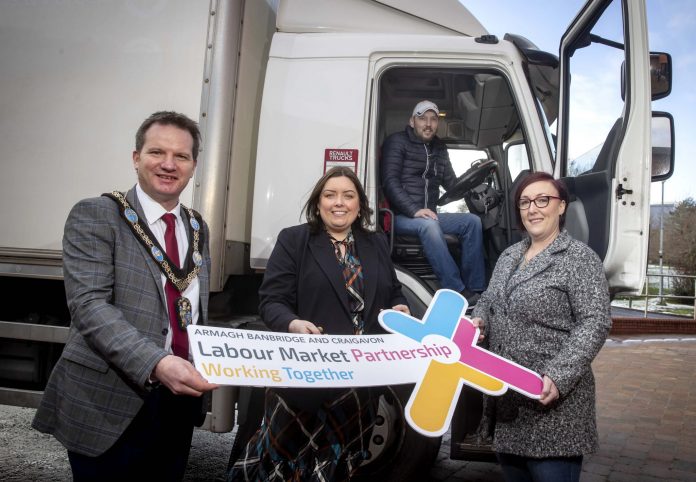 An innovative new scheme has been launched by Communities Minister Deirdre Hargey to help create jobs and meet the needs of employers.
The Labour Market Partnerships (LMP) initiative will see targeted employment action plans created in every council area to support people towards and into work, including young people and those with disabilities. Action plans created by each LMP will ensure that local areas have the infrastructure, resource and support required to deliver the most appropriate employment solutions.
The Minister said: "Labour Market Partnerships will harness local knowledge and expertise and enable tailored action plans to be developed to address each local area's particular needs. A real benefit of this ground-up approach is that local knowledge can be used to meet the specific challenges faced. This will help tackle the complex and changing landscape of employability provision, both for those looking for work and for employers."
A regional Labour Market Partnership is being led by the Department for Communities and overseen through a cross-departmental and multi-agency approach. A number of local projects are already being funded and implemented with a full suite of local provision anticipated in 2022-23.
Minster Hargey continued: "I am grateful to all of our partners and stakeholders who have been involved in designing and driving forward the LMP initiative. A particular mention must be made to each of our local councils who have supported this initiative from the beginning and are now seeing plans come to fruition.   
"I am delighted to have been able to support the establishment of this partnership working model and look forward to seeing new and innovative ideas that help support employers and those looking to enter employment or improve their employment opportunities."  
The Minister was in Craigavon today to visit representatives from Armagh, Banbridge & Craigavon LMP and in particular to view the HGV Training and Employment Academy which was launched in January 2022 and aims to provide training and licenses for those unemployed or under-employed in response to the shortage of qualified drivers. Armagh, Banbridge & Craigavon LMP were one of the first local LMPs to become established and have been working collaboratively as a partnership and with a range of stakeholders to develop a suite of local employability provision.
Lord Mayor of Armagh City, Banbridge and Craigavon Council, Alderman Glenn Barr said: "ABC Council is delighted to be the lead partner in the ABC Labour Market Partnership and, on behalf of all the partners involved, I would like to thank Minister Hargey and all her colleagues in DfC for providing the funding and support to enable us to get programmes delivered on the ground so quickly.
"The ABC HGV Training & Employment Academy is just one example of the type of Labour Market Partnership programme that can be achieved when public and private organisations work together and support each other to respond to local employability needs. The initial funding for the HGV Academy aimed to support 45 people and I am delighted to announce today that the programme will support a further 40 people to achieve HGV qualifications and a guaranteed interview with a local company."