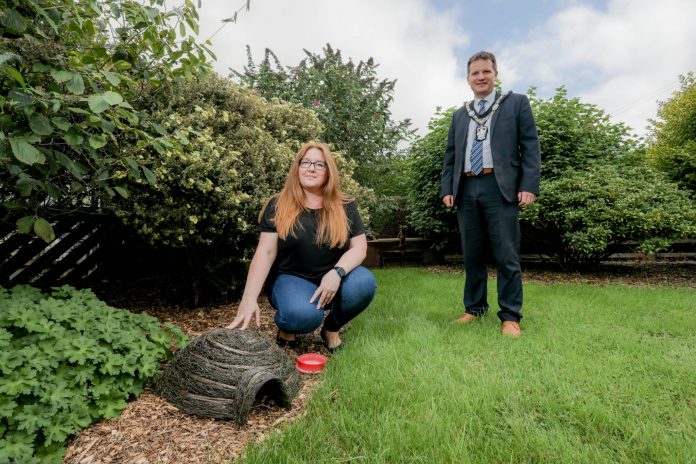 Lord Mayor of Armagh City, Banbridge and Craigavon, Alderman Glenn Barr, is urging residents to check their gardens, fields and land for hedgehogs before strimming or mowing their grass, as an increase in accidental harm is significantly impacting on the hedgehog population
Hedgehog numbers have seen rapid decline across the UK in recent years and many local rescue centres have seen an increase in the numbers admitted with severe injuries caused by household strimmers.
Hedgehogs are vulnerable because they hide in long grass and foliage. They like to make nests in piles of leaves and long, woven grass and love to live in wild areas such as, boarders, hedgerows and areas of dense undergrowth – the exact type of places gardeners may want to tidy.
Cautioning locals to check for hedgehogs in their gardens, before taking out their lawn mowers and strimmers, Lord Mayor Alderman Glenn Barr comments: "Hedgehog numbers have decreased rapidly in the past few years and it is more vital than ever to conserve this amazing species. If you must use a strimmer, please check all areas before using it. if you do come across a hedgehog please move it to a safer area in your garden."
Gardening enthusiast, Claire McCauley from Maryville in Banbridge, is lucky to have a number of hedgehogs call her garden home! She adds: "We are delighted to have a number of hedgehogs inhabit our garden. They are a gardeners best friend as they love eating up insects that aren't so welcome in our green spaces. But so many are being brought into rescue centres with horrific injuries due to strimmers and lawn mowers. We hope people are mindful of the abundance of wildlife that call our gardens home and always be vigilant and careful when using gardening tools. You can also help them thrive outdoors by leaving out some cat food or dry kibble and fresh water – but not milk as they are lactose intolerant."
The British Hedgehog Preservation Society provide free hedgehog warning strimmer stickers for gardeners, businesses and contractors gardening at www.britishhedgehogs.org.uk.