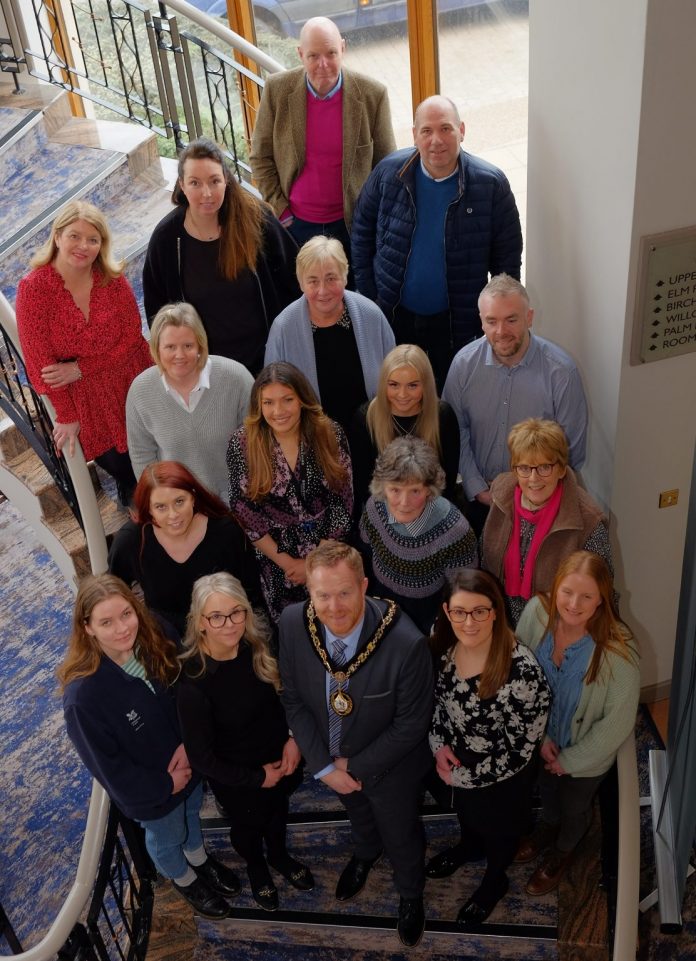 Armagh City, Banbridge and Craigavon Borough Council Tourism Team recently offered tourism and hospitality businesses in the borough the opportunity to take part in a series of In-person digital workshops to help create innovative content, promote and boost their business through social media channels.
The three-week Social Media Course, which was hosted at the Seagoe Hotel, Portadown,  was led by Emma O'Donnell from DigitalbyEmma, a digital marketing consultant, mentor and trainer, who has worked with multiple businesses to develop their online presence over the last seven years.
The aim of the course was to help those within the local tourism and hospitality sector develop the skills necessary to actively promote their businesses on social media ahead of the upcoming Spring and Summer seasons with practical training and easy applied tips, suggestions and tools that the providers can implement straight away.
Lord Mayor, Councillor Paul Greenfield visited one of the training sessions to see for himself how local businesses were benefitting from the insight and practical advice the digital marketing course provided.
"It is very encouraging to see so many of our local enterprises engage and take advantage of this invaluable training. Digital marketing and the use of social media to promote a business is essential to develop and grow in today's marketplace and the skills and knowledge each participant takes away and applies to their own business will only strengthen our tourism and hospitality sector."
Participants in the course were delighted with the opportunity to learn from a digital marketing professional plus have the opportunity to network with contemporaries in their sector. Feedback from the event so far included:
"The ABC Social Media training is excellent in every aspect. Emma is a completely engaging and motivating teacher, with the ability to ensure she brings us all on board, despite a great disparity of knowledge and experience of social media in our group. I have been motivated to set up business Facebook and Instagram due to this training."
"The course is great. Just what I needed to get me inspired again to use social media – I've just done my first Instagram post for months!"
"A big well done for another excellent initiative to drive ABC tourism onwards and outwards!"
The ABC Council Tourism Team will continue the support to the sector with an upcoming trade familiarisation trip planned to Long Meadow Cider Farm on 21 March 2023. For anyone interested in future initiatives or if you would like to register for the Tourism & Hospitality Industry Ezine, please contact