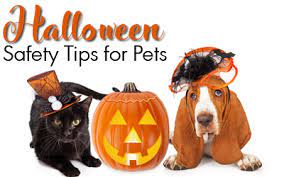 Halloween is an exciting time of year for children (and grown ups!) – but for our pets, it can be an extremely anxious and frightening time.
Lots of animals are afraid of the flashing lights, the bangs and the constant door knocking, putting a huge amount of stress on their brains and bodies. So, here are a few ways you can help your pet feel as comfortable and as safe as possible this Halloween.
Walk your dog earlier than normal so that people in costume, or with sparklers or fireworks, don't frighten them. Keep your dogs on a lead so they don't run off if something startles them.
Always keep your cats and dogs inside when there are fireworks nearby. They need to be in their 'safe place' so they have the option to run off and hide somewhere familiar.
Put animals in a secure room during trick-or-treat time – cats can easily slip out the front door, and dogs can get overwhelmed by 'intruders' constantly at the door.
Don't fuss more than usual over your pet as this can also increase feelings of fear. Stay calm and try to distract your pet if they seem to be scared.
Consider bringing any pets that live outside, inside. It might be good to temporarily move your rabbit and guinea pig homes somewhere indoors to keep them safe.
Keep the curtains shut if there is a lot of activity outside.
Make sure your pets have access to water as dogs and cats tend to drink more when stressed.
Remember, sweets and chocolate can be really harmful if our pets eat them, so keep all trick-or-treating sweets safely out of paws reach!
Have a safe and fun Halloween.