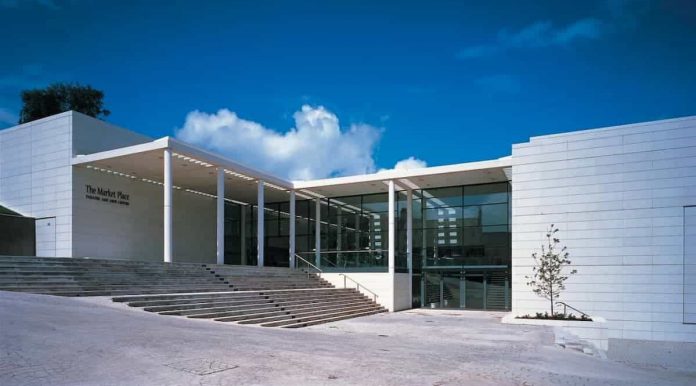 Following the decision by the Executive Office to permit audiences back to concert venues, theatres and other indoor venues from Tuesday 27 July, Armagh City, Banbridge and Craigavon Borough Council's flagship arts and performance venue, the Market Place Theatre in Armagh is delighted to once again be able to invite the public to experience performing arts in a live environment.
Welcoming the announcement, Lord Mayor of Armagh City, Banbridge and Craigavon Borough, Alderman Glenn Barr said, "I am thrilled to see that The Market Place Theatre can open its doors to welcome back the public in person, allowing them to once again experience the finest in arts and culture. The re-opening of our theatre and concert spaces is a significant step forward in our return to normality and the enjoyment that witnessing the arts in person, cannot be underestimated. I would encourage everyone to check out the theatres programme of events and activities on offer and I look forward to a time when we can welcome full-houses back into our city centre."
Although the theatre is once again physically open to the public, certain restrictions are in place to ensure the safety of patrons, performers and staff. One metre social distancing will be in operation, which will present a reduced capacity, however management will be working closely with artists & companies to ensure that the programme of activities will still be as interesting & exciting as always.
Prior to lockdown, major changes to the theatre's interior had been planned which have now been completed in advance of re-opening. Works include improved access provision, enhanced foyer and bar layouts, upgraded toilet and workshop provision plus improved lighting, which will all add additional value to the visitor experience.
As lockdown physically closed the doors to the celebrated venue, the Market Place switched to an online programme provision including the acclaimed John Hewitt International Summer School, which runs from 26 – 30 July and features a superb selection of literature and arts events. However, the latest news from the Executive Office means the festival can now be enjoyed both online and in person.
Throughout the summer, the Market Place Theatre will continue with its hybrid virtual/live programming with highlights including Ceramic Sheep & Kooky Creations workshops for young people and Wooden Spoon carving for adults taking place in August.
Also in August, Big Telly Theatre Company will be presenting an interactive piece of theatre entitled Incognito, an ingenious piece of outdoor sleuthing where teams work together using a specially designed App and follow clues around Armagh City.
As regulations change and the theatre adapts to live audiences again, more and more exciting events including film screenings, workshops, exhibitions and performances will be added to the programme. For further details and booking for all live and virtual events click the link below.