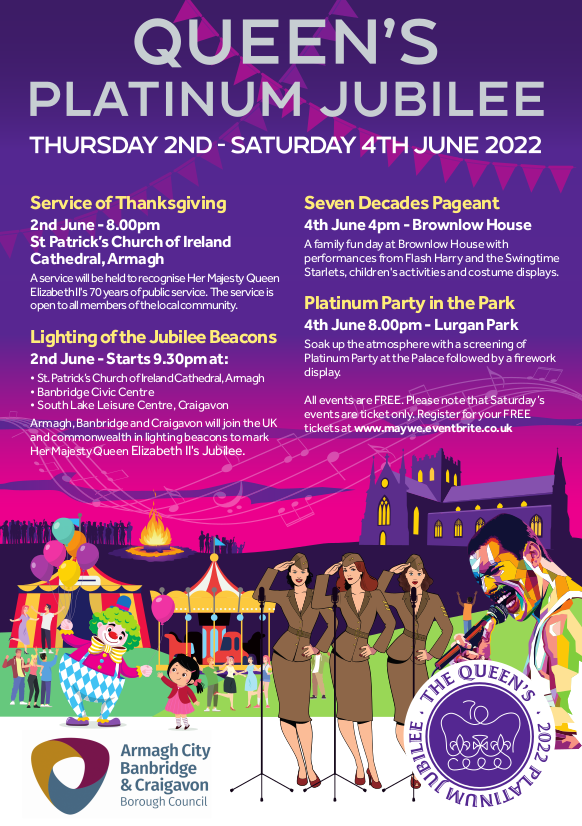 Armagh City, Banbridge and Craigavon Borough will host an exciting weekend of events to coincide with Her Majesty Queen Elizabeth II's Platinum Jubilee Central Weekend 2-5 June 2022.
Lord Mayor of Armagh City, Banbridge and Craigavon Borough, Alderman Glenn Barr said, "I'm delighted to launch Council's programme of events to mark Her Majesty's Platinum Jubilee. Council has arranged a number of events during the Platinum Jubilee weekend, 2-5 June, which complement the official events being delivered throughout the UK and in London."
"I look forward to welcoming everyone to these various events to celebrate Her Majesty's historic reign and 70 years of public service."
The long bank holiday weekend will begin with a Service of Thanksgiving in St Patrick's Church of Ireland Cathedral, Armagh on 2 June, to recognise Queen Elizabeth II's 70 years of public service. The service which is open to all members of the community and will be followed by the Lighting of the Beacons – a UK and commonwealth wide initiative to mark the Jubilee.
At 9.30pm ceremonial beacons will be lit at St Patrick's Church of Ireland Cathedral, Banbridge Civic Centre and South Lake Leisure Centre Craigavon, accompanied by a lone piper playing 'Dui Regnare' a musical piece written to mark the Jubilee.
On 3 June, families and communities are encouraged to mark the Jubilee at home, while on the 4 June the activities begin with the Seven Decades Pageant at Brownlow House from 4pm-6.30pm. The event features a wide range of fun activities for children and families, including a performance by Flash Harry, Northern Ireland's beloved Queen tribute band, celebrating the music of Freddie Mercury and Queen over the past 25 years, accompanied by a selection of amusements, creative art workshops, circus entertainers and walk-about performers. Audience members will be transported back through the decades viewing a living costume display representing family life throughout the past 70 years.
The celebrations will continue on Saturday with The Platinum Party in the Park at 8pm in the beautiful setting of Lurgan Park. Visitors can watch Platinum Party at the Palace live from Buckingham Palace on a 40-metre squared LED screen and are invited to bring along a picnic or enjoy the hot food, tea and coffee offerings on site.
All events are FREE however tickets are required for entry to Saturday's events. Register for your FREE tickets from Monday 16 May at 10am at www.maywe.eventbrite.co.uk