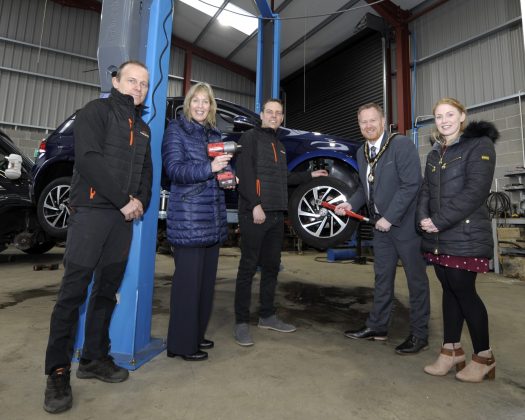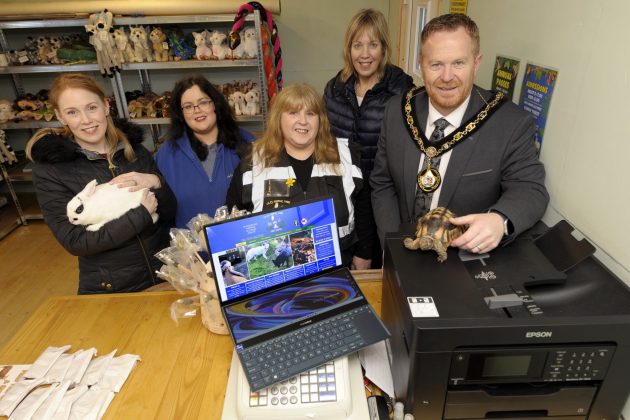 Some 57 small rural businesses in the borough have received grants totalling more than £155,000 to purchase essential equipment after successfully applying to DAERA's Rural Business Development Grant Scheme. 
The Rural Business Development Grant Scheme was launched in 2022 to support the sustainable growth and recovery of rural businesses across NI after the Covid-19 pandemic. It was funded through DAERA's Tackling Rural Poverty and Social Isolation Programme and delivered locally in partnership with Armagh City, Banbridge and Craigavon Borough Council.
The scheme enabled small rural businesses to apply for grants of 50% for capital items up to the value of £4,999. Applications were received from across the borough from a wide variety of rural businesses including professional services, manufacturing, landscaping and food production.
Lord Mayor Councillor Paul Greenfield, accompanied by the Council's Head of Economic Development Nicola Wilson, recently visited some businesses to learn at first-hand how the funding has supported recovery and improved operational efficiency and innovation. He said:
"Thanks to the owners of Anvil Tyre Centre, C&J's Animal Park and Knight Design and Fabrication who took the time to show me around their premises and explain how the equipment purchased is making a big difference to their business. This public sector investment is already yielding positive results in terms of helping to rebuild the rural economy and rural businesses to plan enthusiastically for the future. I would like to thank DAERA for introducing this grant scheme and ensuring rural businesses are supported to thrive and grow."
Daniel Weathers of Anvil Tyre Centre, Gamblestown received £4,180 towards the purchase of an air compressor, post lift impact guns and Torque wrenches to increase efficiency in processing times and improve productivity levels. He said:
"I received a grant to help towards the purchase of new equipment for our recently expanded tyre centre. The equipment had helped us almost double our workload on servicing and MOT preparation on vehicles. As a result of this investment, we have employed another full-time technician and we are looking for another one to start shortly all being well."
Owner Elaine McCreey who owns C&J's Animal Park took the Lord Mayor on a tour of her petting zoo on the outskirts of Portadown and showed him the laptop, printer and free-standing sanitiser station purchased with her £1,470 grant. She explained that her  upgraded IT equipment is enabling her to build a better social media presence and attract more visitors. She is also working towards creating an online gift shop too.
During the visit to Knight Design and Fabrication in Banbridge, the Lord Mayor met owner Gary McKnight who explained how his £4,285 grant has helped him purchase a new pillar drill and rotary phase converter to streamline the manufacturing process and increase work capacity. He also purchased IT equipment to help provide a high level of customer service and has been able to recruit a new member of staff.
Trailers, ride-on lawnmowers, office equipment and specialist work items were among the many types of equipment purchased by other rural businesses in the borough.
To receive updates on new business programmes and funding sources, join the mailing list to receive an electronic copy of the Council's economic newsletter at https://bit.ly/3jYoQ6m