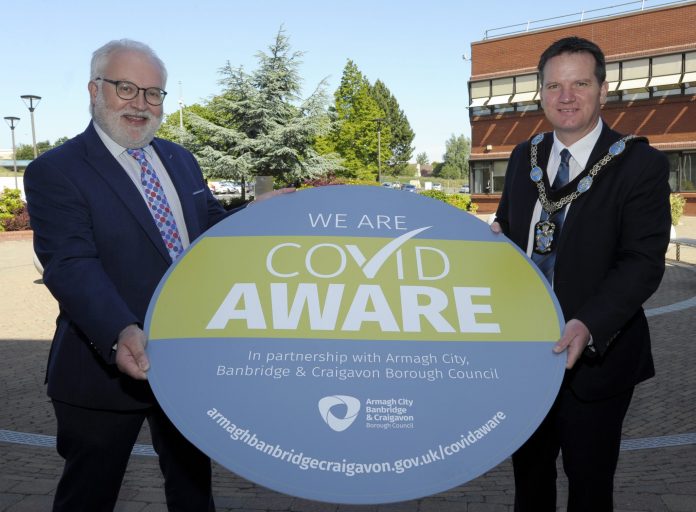 With our high street businesses, retailers, hospitality and close contact services once again welcoming us back, Armagh City, Banbridge and Craigavon Borough Council's Town Centre Support Assistants continue their role in our main urban centres to provide help, advice and support for businesses and the public alike.
As well as offering this essential service and acting as a welcoming and approachable point of contact, the Town Centre Support Assistants will now be helping with the distribution of the Covid Aware Mark to businesses who have successfully completed the Covid Aware Self-Declaration Process as part of the council's new Covid Aware Scheme.
As Covid restrictions ease it is still vitally important that we all play our part in making sure we continue to follow the guidance to keep ourselves and others safe and ensure we can once again enjoy all our borough has to offer.
The initiative is aimed at boosting customer confidence to support safe local shopping and the return of customers and visitors to our city, town centres and villages, in the knowledge that businesses are taking positive steps to keep their customers and staff safe.
Speaking of the newly launched scheme, Lord Mayor of Armagh City, Banbridge and Craigavon Borough, Alderman Glenn Barr said. "The Covid Aware Scheme is a superb opportunity for our local businesses to provide a guarantee that they have met all Covid-19 regulations and are putting the safety of their customers and staff at the forefront of their operation.
I would encourage all businesses in the borough, including tourism, hospitality and close contact businesses, to go to our website and complete the Covid Aware Self-Declaration Process so they can proudly display a Covid Aware Mark in their premises, confident that they are supporting safe local shopping, and for the public to look out for the Covid Aware sticker when visiting our main urban centres."
For further information and to apply for a Covid Aware Mark, businesses should visit the council website at armaghbanbridgecraigavon.gov.uk/covidaware