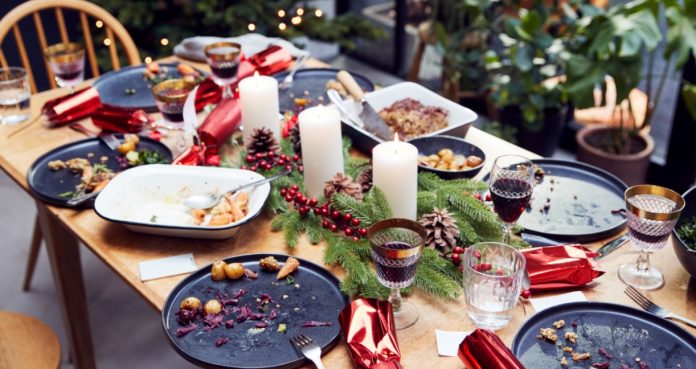 With the season to be jolly upon us it is inevitable that our household bins will become a little fuller with Christmas cheers and all the associated trappings of the holiday period.
Christmas is a time of plenty and unfortunately plenty of waste!  A huge number of us have already begun to made changes to the way we shop, prepare, store and use food, to reduce the amount of good food and drink that is thrown away from our homes – but there's no reason to let these good habits slip over Christmas!
An incredible 270,000 tons of food will be wasted over Christmas – and since most of us overspend on food and treats for the festivities – that is a huge amount of cash being wasted as well.
Almost 5 million Christmas puddings, 74 million mince pies and 2 million turkeys are wasted in the UK over the festive season!
Here are top five tips to reduce waste this Christmas:
1.Savvy shopping: Think about what items you need and who will be coming to dinner before writing out your shopping list. Meal plan accordingly and most importantly, stick to your list when you go shopping!  There's no need for over-buying food – supermarkets will be open for most days in December.
2.Perfect portions: Count out appropriate portion sizes for everyone at dinner to reduce the risk of cooking too much. Log onto www.lovefoodhatewaste.com and try the perfect portion planner to help you calculate your meals this Christmas.
3.Check your dates: When doing your shopping be sure to check the date labels to ensure you are getting the maximum lifespan from your products.  "Best Before" refers to quality rather than food safety.  Foods with 'Best Before' information should be safe to eat beyond the printed date, but they may not be at their best.  "Use By" dates refer to safety – these foods can be eaten to the end of this date, but not after.  Always follow instructions on packs.
4.Get Freezing!!!: If you buy too much of something, or know you may not get through it all, freeze it! The freezer provides the answer to many of our food waste problems and you'd be surprised at what you can store away! www.lovefoodhatewaste.com has loads of tips to help you freeze and defrost lots of foods safely!
5.Lovely leftovers: Use your leftovers to make delicious new recipes. Browse www.lovefoodhatewaste.com for a brand new selection of Christmas themed recipes andhandy leftover recipes you can keep up your sleeve for unexpected guests or lazy lunches!