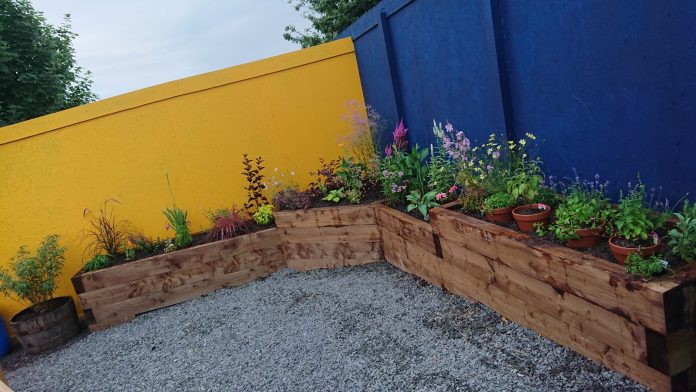 Local volunteers at The Y Zone Youth Project have been able to create a brand-new space for young people in Portadown to come together and enjoy interacting in a safe environment – all thanks to a small grants funding programme from Live Here Love Here, in partnership with Armagh City, Banbridge and Craigavon Borough Council.
Campbell Best, Project Co-ordinator at The Y Zone Youth-hut Initiative and the team of dedicated volunteers have been working tirelessly on 'Project Eden', which has seen them transform a site at Foundry Street into a wonderful place where young people can gather, enjoy being together and even pick up some new skills as well! The site was purchased by Portadown Elim Church 6 years ago, and is earmarked for the site of a new church building facility.
This is a new chapter in their work with 'at-risk' young people in the town and with the funding they have been able to purchase plants, shrubs, garden tools, weed membrane, planters, stones/gravel and railway sleepers from local businesses and have even greater plans to come. So watch this space!
"The transformation of this area has been fantastic and is much needed for young people in the town who are always looking for somewhere safe to meet up with their friends," commented the Lord Mayor of Armagh, Banbridge and Craigavon, Alderman Glenn Barr.
"We are delighted that they were able to secure this funding and to put it towards such a worthwhile project that has so much to give now, and in the future. I look forward to seeing Project Eden develop over the coming months and years."