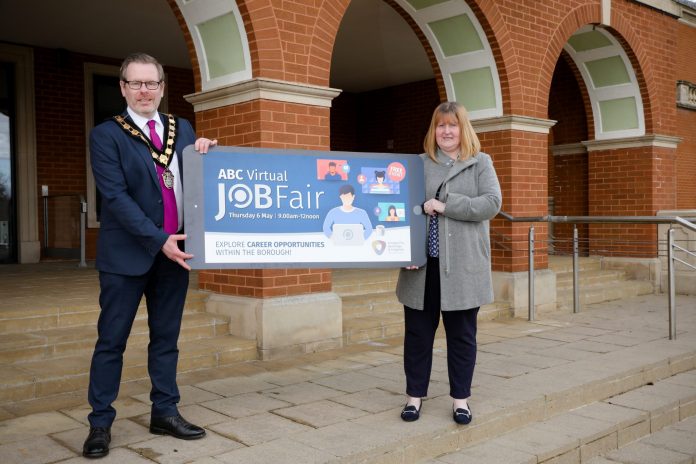 Armagh City, Banbridge and Craigavon Borough (ABC) Council is encouraging local people looking for work to register for a free virtual job fair, taking place on Thursday 6 May 2021.
A collaboration between ABC Council and the Department for Communities (DfC), the ABC Virtual Job Fair will run from 9am to 12noon and will see over fifty local employers promote around two hundred current or upcoming employment opportunities.
The opportunities – based in and around the ABC Council area – will include roles from sectors including: beauty; construction; health and social care; hospitality; manufacturing; professional services; retail; telecommunications and transport to name a few.
What's more, the online event will also feature a range of support organisations including the Department for Communities, Southern Regional College, and local Enterprise Partners – offering information and advice on everything from pre-employment services to accessing training programmes and business start-up guidance.
Lord Mayor of Armagh City, Banbridge & Craigavon, Councillor Kevin Savage said:

"The ABC Virtual Job Fair is an excellent opportunity for local people to get in direct contact with prospective employers and explore the many employment opportunities and support services available in the local area.

"In what has been a challenging year for everyone, this online recruitment event offers a convenient and cost-effective way for potential employees and employers to connect."
Once registered, attendees will receive a full, pre-event running order, detailing all participating employers and support agencies, enabling them to engage with those of interest to them and ask questions through the event host.
Ashley Russell-Cowan from DfC's Employer Services Branch said:

"The ABC Virtual Job Fair is a great opportunity for anyone looking for a job or a different job to hear from employers who have available vacancies. With ABC Council running the event, it allows a more local approach to linking employers and prospective employees together; I would really encourage anyone seeking work or employment advice to attend on 6 May 2021 to hear about the opportunities on offer".
Taking place virtually for the first time, the local job fair aims to offer local people, including those who have lost their job due to the Coronavirus pandemic, the opportunity to not only meet a range of local employers and apply for work but also the chance to find out more about how to enhance their career and employability skills.
To find out more about ABC Virtual Job Fair and to register your place click here.