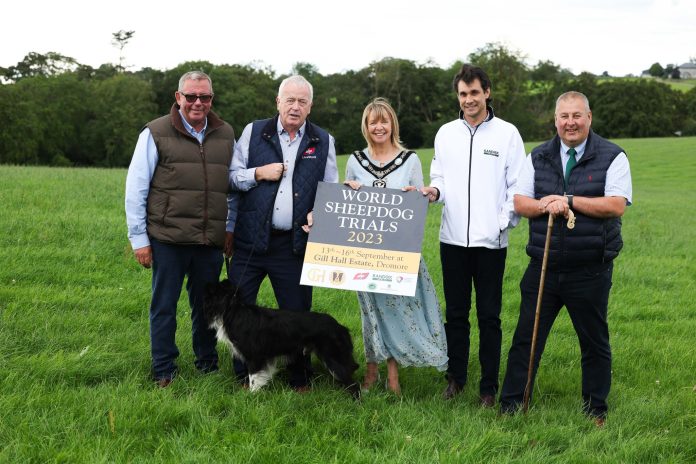 Up to 30,000 spectators from across the globe are expected to attend the World Sheepdog Trials in Gill Hall Estate, Dromore from 13th to 16th September, as the popular event is held in Northern Ireland for the first time in its history.
Armagh City, Banbridge and Craigavon Borough will see 240 sheepdogs and their handlers from over 30 different countries take part in the Trials, which are sponsored by ABP Food Group, Randox Heath and Gilbertson & Page Ltd, with Team Ireland hoping to perform well on home ground.
The International Sheepdog Society organisers, participants and visitors alike will be delighted to see the return of the event since the 2020 championship was cancelled due to the pandemic.
Gill Hall Estate in Dromore will host the event and some of ABC Council's Food Heartland producers will showcase local artisan food and drink including Lush Larder, Marshall Beekeeping, Jackson Roze, Ballylisk Cheese and Rosemount Cottage Farm.
Lord Mayor of Armagh City, Banbridge and Craigavon Borough, Alderman Margaret Tinsley said:
"It is fantastic to see our borough being showcased on a global stage like this, with visitors and competitors from as far away as Brazil and Argentina coming to spend time in our area. As a council we are delighted to support this event and very proud our borough will host this major competition for the first time in Northern Ireland. I have no doubt all competitors and visitors will be impressed by the hospitality of everyone involved and I extend best wishes to the organisers and everyone participating in the 4-day event."
The festivities begin on Tuesday 12th September at 5pm with a parade of competitors and teams through Gill Hall Estate followed by the opening ceremony. Competitions begin at 7.30am each day with the finals being held on Saturday 16th September.
John McCullough, Chairman of the World Trial Committee added: "The arrival of the World Sheepdog Trials in Northern Ireland is a momentous occasion. We are truly honoured to showcase the exceptional talent and dedication of sheepdogs and their handlers on the global stage. With competitors hailing from diverse countries such as Israel, Germany, Canada, and Finland, this event truly exemplifies the universal appeal of sheepdog trials.
"We'll have some of the world's best sheepdogs and their handlers descending into Ireland over the next few days and it is sure to be a spectacle not to be missed!"
The International Sheep Dog Society has held six World trials, where competitors from all over the world qualify in their own countries to compete with their sheepdogs. The World Sheepdog Trials are held every three years with the last one in Hoogwoud in the Netherlands in 2017.
To find out more information about the event, or to purchase tickets, visit https://www.worldsheepdogtrials.org/. Tickets can also be bought at the gate on the day.