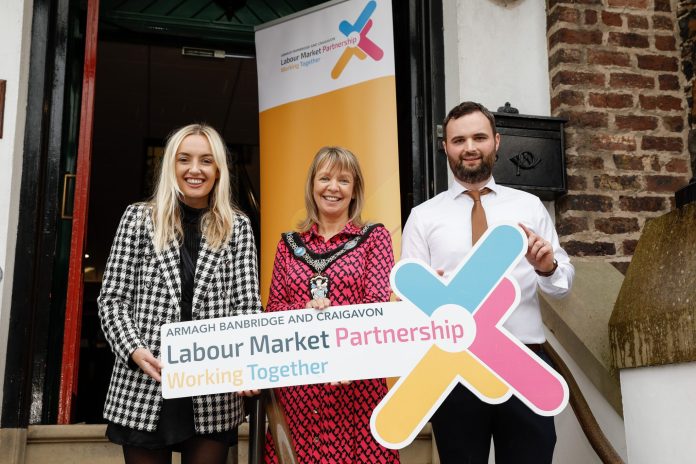 Armagh City, Banbridge and Craigavon Council have launched their Disability Employment Programme which will support individuals who have a disability, and are either unemployed, underemployed or at risk of redundancy.
The programme is part of the Council's Labour Market Partnership, and will be delivered by Stepping Stones NI.
Labour Market Partnerships, which create targeted employment action plans for council areas, are funded by the Department for Communities, and allow for collaboration at local and regional level to support people towards and into work.
Participants of the Disability Employment Programme will receive one-to-one support through mentoring and job matching as well as free accredited training. They will also have the option of work placements and guaranteed job interviews with partner employers across a range of industries and job types.
Lord Mayor of Armagh City, Banbridge and Craigavon, Alderman Margaret Tinsley commented: 
"As a council we are proud to support people with disabilities and those who may be facing challenges to reach employment by helping them overcome barriers. We know that work has a huge positive impact on people's health and wellbeing and with this programme it will assist more people to reap the benefits of fulfilling employment with the right help. 
"Through this programme we hope to provide more inclusive employment opportunities across our borough and unlock people's potential to help grow our economy."
 The programme will be delivered by Stepping Stones NI, a local charity whose mission is to nurture the potential of people with a disability to thrive in a socially inclusive society. They support people who face all kinds of barriers to employment including learning difficulties, Autism, ADHD, Dyslexia and Mental Health issues.
"Stepping Stones NI is delighted to be awarded the contract to deliver the councils LMP Disability Employment Programme" says Paula Jennings Chief Officer of Stepping Stones NI.
"We are passionate about supporting people with disabilities to achieve their goals and their employment aspirations leading to a paid job.  Employment gives us opportunity and purpose in our lives and with the support of Stepping Stones NI our team will go the extra mile for the people with disabilities engaging in the programme living in the ABC council area".
To find out more about the Disability Employment Programme, contact Stepping Stones NI by emailing or calling 07912085669.