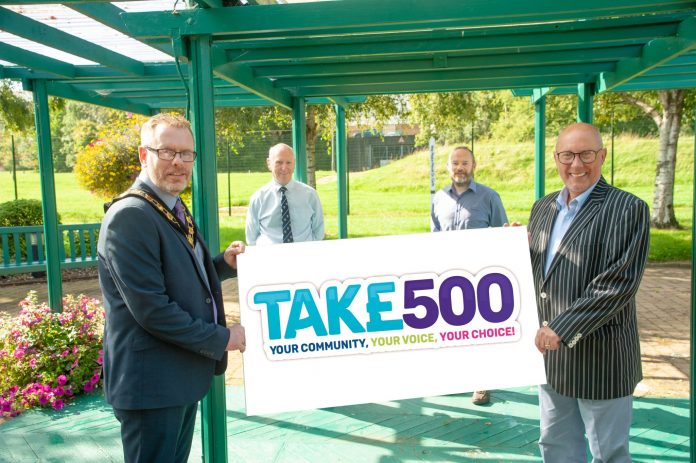 Do you have an idea that you feel would have a positive impact on your community? Do you think this idea could be turned into a project and brought to life?
If so, look no further than the 'Tak£500' Participatory Budget Fund which is led by Armagh, Banbridge Craigavon Community Planning Partnership. Communities can apply for up to £500 for a project that they think will benefit their area – and best of all, it is the local residents who decide which projects should go ahead!
So how does it work? Tak£500 is a Participatory Budgeting initiative – which basically means that local people get a direct say in how public funds are used to address local needs.
Both constituted groups and non-constituted groups can apply for funding – and ideas must be based around the 'Take 5 Ways of Wellbeing'. These are five simple steps to help maintain and improve your wellbeing on a daily basis.
They are: 'Connect' with people around you; 'Be Active' in some way each day; 'Take Notice' of the world around you and how you are feeling; 'Keep Learning' by trying something new and 'Give' by doing something nice for someone else.
There must be a minimum of three people per group, and each group can only propose one idea. Children and young people aged eight and above can also form a group and apply for funding.
If your group is not constituted, you will need to be sponsored by a constituted group or organisation, as funds cannot be paid into a personal bank account.
So all you have to do is fill out the application form, and if you meet the simple criteria you will then move onto the next round where you will be asked to submit a short video to showcase your project bid. This video will be hosted online and you will have the opportunity to get your community to rally behind you and vote for your project!
The projects with the most public votes will then be awarded £500 to make their initiative happen!
"Tak£500 is a fantastic way for our local communities to really take ownership of their areas and to secure funding for projects that they want to see happening on their doorsteps," commented the Lord Mayor of Armagh, Banbridge and Craigavon, Councillor Kevin Savage.
"I know that many people within our communities have brilliant ideas that will have a positive impact on their area and this initiative allows them the possibility of bringing these ideas to life.
"Participatory Budgeting is a great way of giving our residents some control over public funds and allowing them to choose the best way of investing this in their communities – so I would encourage people from right across the borough to get involved and get their applications sent in! I look forward to seeing all the suggestions!"
You can attend one of our online information sessions which will be held via zoom each Tuesday in October ahead of the closing:
Tuesday 06 October 2.30pm
Tuesday 13 October 10.30am
Tuesday 20 October 7.30pm
This project has been funded by a range of organisations including the PSNI, PSCP, Sport NI, Public Health Agency, Southern Health and Social Care Trust, Department for Communities, West Armagh Consortium, the Northern Ireland Housing Executive and Triangle Housing.
It has also been supported by the Council, Business Partnership Alliance, the Carnegie Trust and the Community and Voluntary Panel.
If you need more information or support, please contact a member of PB Working Group. Full contact details are online at www.armaghbanbridgecraigavon.gov.uk/TAKE500 or alternatively, you can email