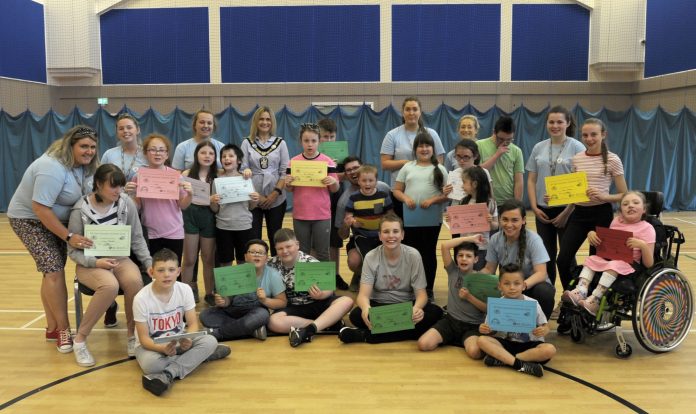 It was smiles all round when Lord Mayor, Councillor Mealla Campbell presented participation certificates to the young people who recently took part in Armagh City, Banbridge and Craigavon Borough Council's All Stars Summer Scheme at Gilford Community Centre.
The summer scheme offered young people with disabilities aged 7 – 17 years the opportunity to enjoy inclusive physical and sporting activities in a series of weeklong sessions throughout July and August.
During the programme, participants were introduced to different forms of physical activity helping to break down existing barriers to their participation and enhance their active lifestyles and confidence. The scheme also gave them the chance to develop friendships, which can continue long after the scheme has ended.
The physical activity sessions were led by qualified Every Body Active 2020 coaches who were all experienced in adapting each session to maximise the involvement of all of the children taking part. The arts and crafts element to the scheme was tailored around the children's interests to provide fun, excitement and new opportunities.
This year the programme proved exceptionally popular with 53 referrals registered and an additional 16 siblings attending.
The All Stars Summer Programme is organised and delivered by the council's Sports Development Department and supported by the Southern Health and Social Care Trust. The physical activity coaches are funded through Sport Northern Irelands Every Body Active 2020 Programme.