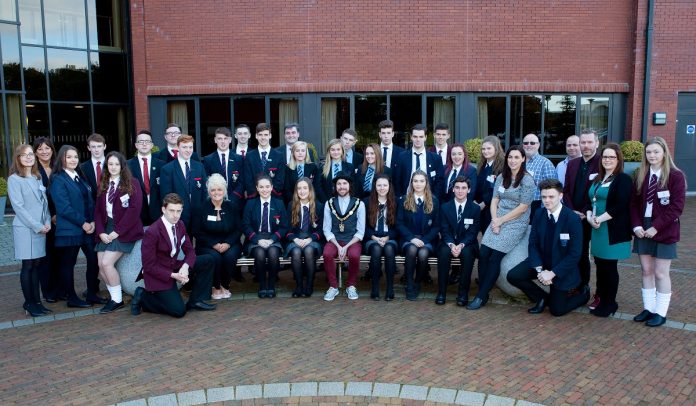 Young people across Armagh City, Banbridge and Craigavon Borough Council area participated in an event to mark Local Democracy Week at Craigavon Civic and Conference Centre on Thursday (13th October).
28 young people from local post primary schools met with Councillors and Officers at the Council's annual local democracy event to tell them their views on how services could be improved for young people.
Lord Mayor of Armagh Banbridge and Craigavon, Councillor Garath Keating said, "I am delighted to see so many young people attend this event and take such a great interest in local democracy and their Council area."
"It's a great way to get our young people engaged with us so they can see how Council works and how we as elected Members work on behalf of the  local community. The students have shown great interest and enthusiasm by providing us with their ideas on how to improve council services and make Armagh City, Banbridge and Craigavon Borough Council a better place for young people to live and study."
A range of topics were discussed including good relations, economic development, the Council's proposals for the new South Lake Leisure Centre as well as planning and community planning.  Students were then challenged with scenario questions to consider how they would plan and deliver these services if they held the political reins.
Four presentations detailing exactly how this could be achieved were presented to Councillors David Jones, Carol Black, Joe Nelson, Jonathan Buckley, Kevin Savage and their student peers in the Council's Chamber where some lively debate took place.  The students did not disappoint and presented a range of innovative ideas on how to improve and deliver services.
They identified programmes to help reduce youth unemployment in our Borough, advised the Council on their expectations of the Council's Planning service and presented a range of options on how to involve young people in the community planning process.  They also expressed their opinions on the plans for the Council's new Leisure Centre.
This event was one of many which took place across Northern Ireland to mark Local Democracy Week, which aims to make councils more relevant to young people, dispel apathy and encourage interest in local politics.