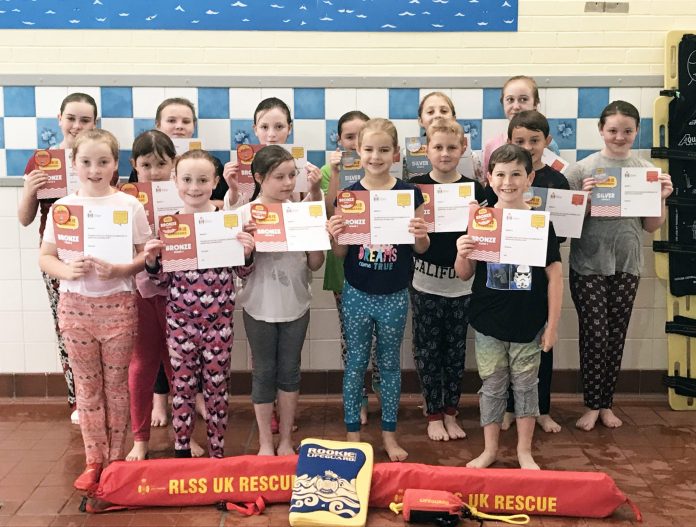 The school holidays may seem like a distant memory but for some young swimmers the summer break allowed them to learn important skills that will stay with them for life when they took the plunge and signed up for the councils Rookie Lifeguard scheme which took place at leisure facilities across the borough.
The Rookie Lifeguard programme is the junior award scheme of the Royal Life Saving Society UK and offered the opportunity for young people to explore water safety and learn how to look after themselves, family and friends better in water.
For many of the Rookie Lifeguards, the programme was the first opportunity to explore water safety, gaining independence and confidence while learning vital life skills. Through a series of fun water based activities focusing on survival, rescue and sports skills as well as life support and water safety elements, the participants were able to progress through Bronze, Silver and Gold Awards
The Rookie Lifeguard programme was delivered at Orchard Leisure Centre, Banbridge Leisure Centre, Cascades Leisure Complex and Craigavon Leisure Centre with a total of 131 local children taking part with 71 gaining the Bronze Award, 44 picking up Silver and 16 participants gaining the prestigious Gold Award.
Lord Mayor of Armagh City Banbridge and Craigavon Borough, Councillor Mealla Campbell offered her congratulations to everyone who took part. "The Rookie Lifeguard Programme is such a worthwhile programme for young people to get involved with. Not only are the children able to have fun, make new friends and stay fit and healthy, they are learning essential life-saving skills that will keep them safe in the water and could help save the life of others. Well done to all involved!"
Armagh City, Banbridge and Craigavon Borough Council offer a host of water based activities across the borough including swimming lessons for children and adults aimed at improving confidence in and out of the water, with an emphasis on fun and progression. Full details can be found at www.getactiveabc.com.