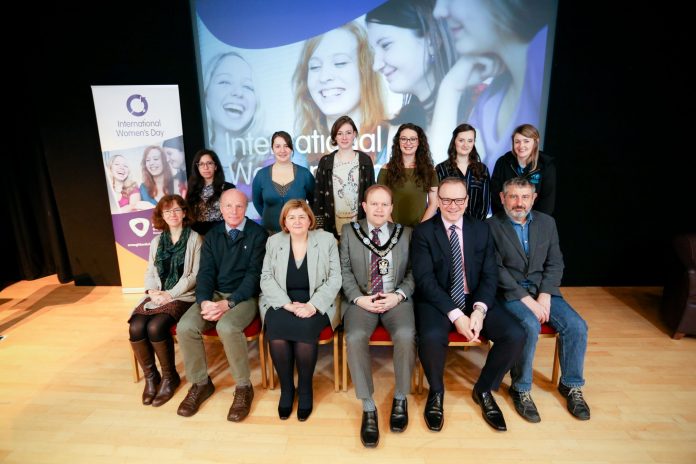 With the return of International Women's Day (IWD) last week, Armagh City, Banbridge and Craigavon Borough Council in tandem with thousands of groups right across the world, once again pledged its support to the initiative and in particular its 2018 theme to #PressforProgress.
Bringing together students and guests from a variety of schools and organisations, council in partnership with the Observatory and Planetarium, Armagh hosted the IWD event at Craigavon Civic and Conference Centre on Tuesday 6 March.
Focussing primarily on women in Science, Technology, Engineering and Mathematics (STEM) careers, the event was compered by television presenter and journalist Paul Clark MBE and opened by Lord Mayor Alderman Gareth Wilson and Chief Executive, Roger Wilson.
"I am delighted to see the huge support from the audience and the inspiring female role models who have joined us to support and celebrate International Women's Day. It is hard to believe in today's society that gender imbalance still exists in the workplace and although we have made great advancements in recent times there is still so much for us to do to change this" commented Lord Mayor Alderman Gareth Wilson.
During the event students got to hear about nine prominent female scientists throughout history, which not only increased awareness of female role models who are inspiring but also relatable. With a local perspective local role models included, Jocelyn Bell Burnell, an astrophysicist born in Lurgan, who discovered pulsars while completing her PhD at Cambridge University in the late 60's. This discovery is considered one of the most significant scientific achievements of the last century. Student also learnt about Annie Russel Maunder (1868-1947) an astronomer and mathematician who was born in Strabane.
The event also saw a recorded interview with Professor Louise Harra, a Lurgan native and past pupil of Banbridge Academy, who went on to study maths and physics at Queen's University Belfast. Now a Solar Physicist at University College London (UCL), Professor Louise Harra has worked on a number of internationally significant space projects including the European Space Agency's Solar Orbiter mission, due to be launched in February 2019.
With a presentation from Dr. Heather Earnshaw on improving gender balance, the students were guided through the concept of unconscious bias, which as a result has led our culture treating boys and girls differently. The event then closed with a panel discussion from five PhD students who are based at the Observatory and Planetarium, Armagh and are from the UK, Bulgaria and Venezuela. Although from very different backgrounds geographically and culturally, they all outlined their drive and passion to pursue a career in astronomy.
Since the inaugural event in 1911, all around the world, International Women's Day represents an opportunity to celebrate the achievements of women while calling for greater equality, with thousands of events taking place marking the social, economic, cultural and political achievements of women.