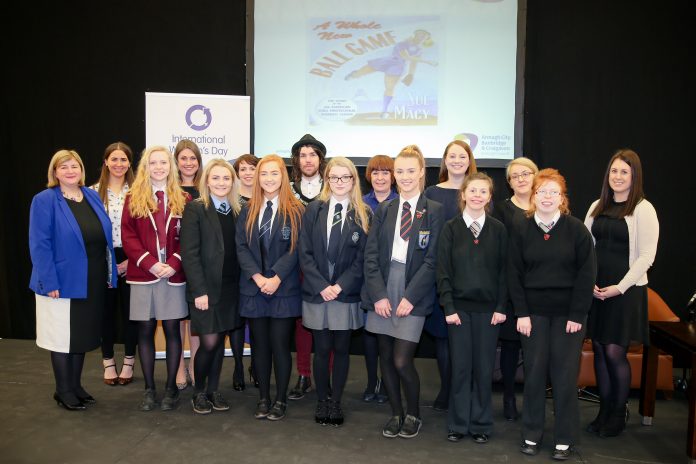 BeBoldforChange was the key message at an International Women's Day event organised by Armagh City, Banbridge and Craigavon Borough Council, at Craigavon Civic and Conference Centre on Tuesday 7 March.
Over 80 students and guests from a variety of organisations and schools across the borough came together to celebrate women and also to address the gender disparity still evident in today's workplace, most strikingly within the Science, Technology, Engineering and Maths (STEM) sector. According to figures from the Equality Commission in Northern Ireland the ratio of men to women in STEM roles is 3:1 in Northern Ireland.
Lord Mayor of Armagh City, Banbridge and Craigavon, Councillor Garath Keating and Roger Wilson, Chief Executive of Armagh City, Banbridge and Craigavon Borough Council endorsed their support for the International Women's Day movement by opening the event. While Sarah Travers, one of Northern Ireland's most experienced and respected journalists and television presenters, compered the event.
Lord Mayor of Armagh, Banbridge and Craigavon, Councillor Garath Keating, commented,
"I am delighted and proud to welcome such inspiring female role models to celebrate International Women's Day and hear how they have achieved success in the male-dominated business world. It is sad to see in today's society that gender imbalance still exists in the workplace and although we've made great advancements in recent times there is still so much for us to do to change this. That is why it is great to see the Council pledge its support once more to the International Women's Day movement. This year's theme 'BeBoldForChange' places the onus on us all, men and women, to act in some small way to promote equality, respect and fairness and to make every day International Women's Day!"
To increase awareness and promote women in the STEM industry, students and guests were treated to a very special recording of local STEM Ambassador Sinead O'Sullivan, Aerospace Engineer, Harvard Business School.
A native of Armagh, Sinead O'Sullivan has crafted herself out a truly stellar career. Having graduated in 2008 with a degree in Aerospace Engineering from Queen's University Belfast, Sinead then moved on to work for the European Space Agency and NASA. Subsequently she has undertook various projects at Georgia Tech's Aerospace Systems Design Laboratory. Sinead is now the Chief Executive Officer of Fusion Space Technologies, a satellite and drone company, which she runs while carrying out her research at Harvard Business School.
Talking about her own passion for STEM subjects and how this helped steer her to the Aerospace sector, Sinead also called for all students and guests to find something they are passionate about to really drive forward their own careers.
The event then moved onto a panel discussion on STEM careers, which featured Donna Heaney from the Equality Commission alongside industry experts including Sorcha Eastwood, Interface, Sinead Donnellan, Kerry Foods and Aine Green, Kerry Foods. The panel discussed initiatives that could be used to address the gender imbalance within the sector such as busting industry myths, bringing about better communication between schools, colleges and industry and having more female role models and mentors.
We face significant global challenges as a society today such as climate change, cyber security and an aging population and it is STEM professionals that are required to address and solve these problems, in particular female STEM professionals due to their strong communication and empathy skills. Given the low representation of females within the sector it is without a doubt the STEM industry is not adequately utilising this female talent.
Catríona Dowling, Harbour Master of Warrenpoint Harbour then shared her enthralling career history to date, which saw her overcome personal adversity from an early age to secure the title of being the first female Harbour Master of Warrenpoint Harbour in Ireland and the second female Harbour Master in the whole of the United Kingdom. Catríona's palpable passion and love for what she does was evident for everyone in the audience and her lasting message to dream big truly showed the reality of this year's International Women's Day theme to BeBoldForChange.
Martina McNulty Head of Performance and Audit in Armagh City, Banbridge and Craigavon Borough Council took to the stage and provided a potted history of her career while bringing attention to her commitment and ability to embrace change throughout her career. Given the fast paced, social media centred society that we all face today, Martina also highlighted her key message for everyone to stay healthy and look after themselves.
The theme of personal well-being and emotional resilience was also reinforced by Hugh Russell of Russell Associates. Exploring this topic, Hugh provided a very engaging and thought provoking session on what resilience is and how we can all be resilient. Hugh also illustrated its benefits and how it can not only help us achieve success but also happiness and good health.
Since the inaugural event in 1911, all around the world, International Women's Day represents an opportunity to celebrate the achievements of women while calling for greater equality, with thousands of events taking place marking the social, economic, cultural and political achievements of women.