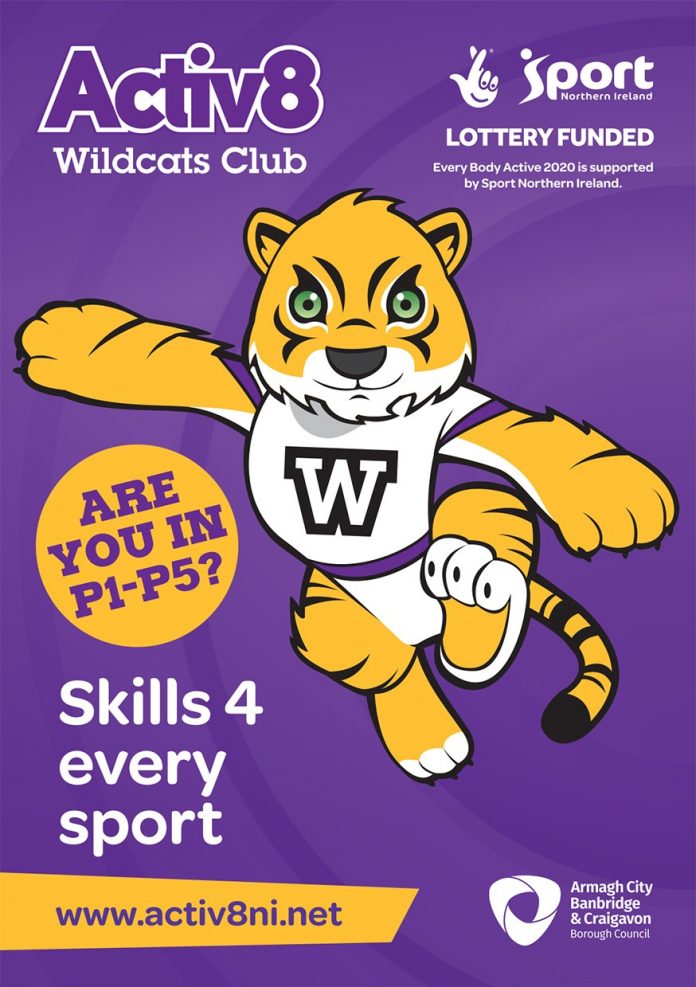 Wildcats Activ8 Clubs are back on the prowl in Banbridge this autumn, giving local children a unique opportunity to learn new sports skills, make new friends, get active and have fun in a safe, controlled environment.
Banbridge Leisure Centre is once again the venue for the popular activity clubs which offer multi-sports activities for school children in Primary 1 to Primary 5 and is delivered by coaches from the Sport Northern Ireland's National Lottery-funded Every Body Active 2020 programme.
Sports Development Officer for Armagh City, Banbridge and Craigavon Borough Council, Gillian Dewart, highlighted the benefits of the Wildcats Activ8 Clubs and the importance of physical activity for young people.
"Children tend to be less active during winter and given that childhood obesity is on the increase, these clubs will have a positive impact on a child's overall health and wellbeing by enabling them to achieve the recommended physical activity guidelines of at least 60 minutes a day.
The activities also help develop a child's co-ordination, movement, thinking and balance. We would encourage any local children in P1 – P5 to sign up for Wildcats. Keeping fit has never been so much fun!"
Commencing on Monday 6 November 2017 sessions for children in Primary 1 & 2 and Primary 3 – 5 will run each Monday from 5pm – 6pm for 12 weeks concluding on Monday 12 February 2018 with a break for the Christmas holidays.
The cost to attend the club for the 12 weeks is £24 per child and bookings can now be made online at www.getactiveabc.com. Early booking is essential as places are limited.
For further information please contact Sarah Aiken, Sports Development Assistant on T: 028 4066 0637 or E: