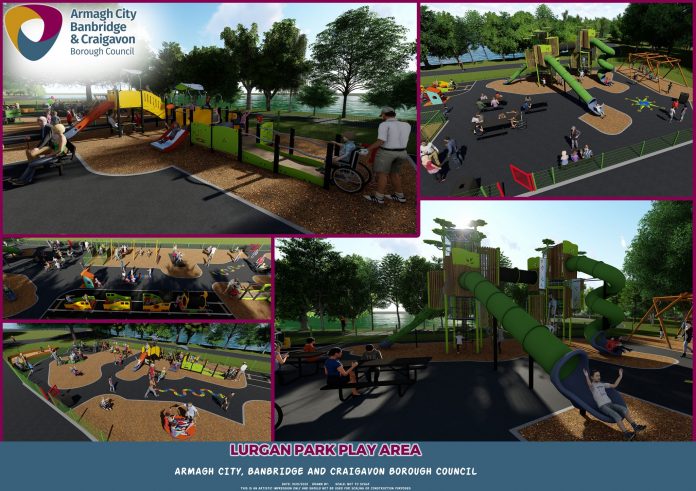 Armagh City, Banbridge and Craigavon Borough Council announces plans for a £250,000 refurbishment of the children's play park in Lurgan Park.
Lurgan Park, the largest park in Ireland after the Phoenix Park in Dublin, is to receive an investment of a quarter of a million pounds to upgrade its children's play park, with work due to begin next week.
The Park hosts an expansive man-made lake and 5km of pathways through mature woodland and open grassland. It was once part of the Brownlow estate and is still overlooked by Brownlow Castle today. Located just off the M1, Lurgan Park already draws visitors from outside the Borough, and the new play park renovation will make the site even more attractive to locals and visitors from further afield.
The refurbished play park is set to be ABC Council's most inclusive play facility to date, which aims to champion play by providing play opportunities for all children and their families.
With all play parks in the north currently closed, now is an opportune time for work to begin on the site. All other areas of Lurgan Park will be unaffected by the works, however, the existing play park at Lurgan Park will remain closed for several months to accommodate the work. As is the current advice with the Covid-19 play park closures, families with children are encouraged to use the rest of the open space in the park for natural play.
Barring Covid-19 restrictions, it is hoped that the brand new play park will be complete and ready to welcome children in November.
Lord Mayor of Armagh City, Banbridge and Craigavon, Councillor Kevin Savage, commented:
"Like all of us, our children have been through a lot in the last few months. This investment in Lurgan is very welcome and it is something for families to really look forward to. The Council's Play Strategy has been delivering fantastic play projects and infrastructure over the last few years, and now more than ever I believe children (and their parents!) will appreciate being able to get back to this type of play."
The £250,000 investment is part of Armagh City, Banbridge and Craigavon Borough Council's Play Strategy 2018-2026. The eight-year strategy puts ABC Council at the forefront of health, recreation and leisure in Northern Ireland, actively championing play to help improve understanding of its critical importance to children and young people.
For further information or to find out how to get involved in play in your area, contact Joan Noade, Play Development Officer, Armagh City, Banbridge & Craigavon Borough Council on or 075 1560 7472.