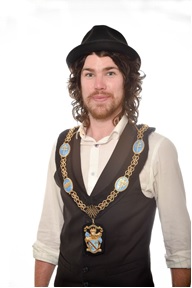 As Lord Mayor, it gives me great pleasure to extend a very warm welcome to a small number of families from Syria, who will soon be settling in our Borough.
The families will be living in communities' right cross the Borough and I know that many of you will want to join with me in welcoming them into our neighbourhoods and will be keen to support them in making them feel welcome.
All of the families have experienced great hardship and have witnessed much trauma over the past number of years.
Imagine if your family arrived in a new country traumatised and bereaved, not speaking the language, not knowing your way around or how things work. The families will arrive with practically nothing and any possessions that they do have fit into one bag.
If you are interested in helping the families feel welcome, we're appealing for your support in helping to put together "starter packs" to donate to the Syrian families on their arrival to the Borough. Information on how you can do this is detailed below.
I know how positively the people in this area have in the past responded to people in times of need and I hope we can do the same again this time.
Thank you in anticipation of your generous support with this appeal.
Lord Mayor Councillor
Garath Keating.
What and Where to Donate
(Please note that that this is not an appeal for general donations, second hand clothes, furniture, white goods, bric-a-brac or cash).
What to Donate:
Vouchers:

These can be purchased from locally accessible supermarkets, chemists, clothing outlets, shoe shops etc although processed in the same manner as cash, these can be donated and have proved useful in other areas.

(We gratefully request that any of the items listed in the following categories be new).

Household Starter Packs:
new kitchen and bathroom cleaning essentials, tissues, tea towels, tin-opener, utensils, clothes drying rails, high chairs, shoe racks etc
Children's Education Packs (from 0 – 17yrs M/F):
new toys, colouring in pens, crayons, jigsaws, picture books, learning to read books, basic English Language support books, school stationery, school bags etc
Medical/Hygiene Starter Packs:
Toothbrushes, Toothpaste, Soap, Shampoo, Conditioner, razors, shaving foam, deodorant, feminine hygiene, plasters, brush, comb, first aid kit, nappies etc
English Language Family Starter Packs:
Direct purchase or vouchers from local accessible retailers or vouchers purchased from online retailers of Bilingual Arabic/English dictionaries, English language support books
Warmth Starter Packs:
electric/oil/gas vouchers bed linen, sheets, blankets, duvets, pillows, hot water bottles, umbrellas
Clothes Starter Packs (0 – 17 years (M/F) – mature adults (M/F)):
Vouchers for clothes and shoes, no second hand clothes/shoes please, small amounts of new basic clothing essentials e.g. socks, underwear, jumper, T-shirts, slippers.
Basic Food Starter Packs non-perishable:

Cooking Oil, rice, pasta, tins, fruit juice, tea, coffee, salt, pepper, sugar, white vinegar, flour, long life milk etc.

(Please note that most families will only eat Halal foods – please avoid tinned and ready meals, or any foods with pork derivatives.)
Where to Donate
Donations can be dropped off/delivered to the following temporary collection points between the hours of 9:00am – 5:00pm. (For hours outside of this period, please contact the centres directly):
ARMAGH: Orchard Leisure Centre, 37-39 Folly Lane, Armagh BT60 1AT. Phone: 028 3751 5920
BANBRIDGE: ReStore Recycling Plant, 86 Scarva Road, Banbridge BT32 3QD. Phone: 028 406 60656
CRAIGAVON: The Hub, 7 Brownlow Road, Craigavon BT65 5DL.  Phone: 028 3831 3630
(Please note that that this is NOT an appeal for general donations, second hand clothes, furniture, white goods, bric-a-brac or cash).
In the event of over subscription the Council reserves the right to donate any additional items received to the next group of Syrian Refugees (via Bryson house) to Northern Ireland and/or to local charitable organisations.
Help Tackle Poverty Locally
The Council would like to take this opportunity to highlight that poverty exists in many forms throughout the Borough and many local organisations including food banks, charity shops, homeless charities and other local charities do excellent work with those citizens most in need and we also welcome your support and donations to these organisations.